Interdisciplinary Studies
"Dance, Sustainability and Ecology Research at the SEEDS Festival"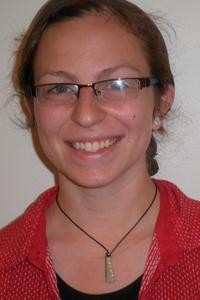 This research will include a literature review of environmental art and dance and a 10-day conference called SEEDS: Somatic Experiments in Ecology, Dance and Science, in Plainfield, Massachusetts in July 2010. Upon my return from the SEEDS festival I will draw from my research of experimental dance-making, Body-Mind Centering, improvisation, ecology, environmental sustainability, and environmental art to compose my Interdisciplinary Studies capstone project consisting of a research paper and site-specific performance. I will explore an environmental issue using choreographic and improvisational methodologies learned at the SEEDS festival, and the entire performance process will establish an environmentally sustainable model, unlike traditional modes of dance performance. I will document my creative research process and final artistic product through photography, video and a dedicated public blog.
How did you find your mentor for this project?
As an Interdisciplinary Studies major, I have three advisors. Because I take many dance courses, one of my advisors is Carol Hess. I have taken many dance courses with her since I entered UMBC as a transfer student and she has continued to provide great support and inspiration.
Watch Emily's presentation and her performance below.
How did you know this was the project you wanted to do?
I was sure from the beginning that my project was meaningful in the present, and that I will use what I learn throughout my future career. In addition, the concept formed as a result of several courses I have recently completed, in which my perspective on art, society and the natural world has shifted significantly. Projects in these classes inspired me to pursue research that is more substantial.
Is this your first independent research project?
Yes.
Do you get course credit for this work?
Yes. This research constitutes my Interdisciplinary Studies Capstone project.
How much time do you put into it?
Much time throughout Summer & Fall 2010, including a 10-day conference experience and literary research.
How did you hear about the Undergraduate Research Award program?
I first heard about the Undergraduate Research Award program from my advisors, and later from fellow students.
What academic background did you have before you started?
I have completed courses in dance, visual art and various social issues. The most related courses are Dance Improvisation and a seminar in Sustainable Design.
Was the application difficult to do?
It is often difficult to predict what direction an art-related project will go, so it was a bit challenging at first. However, I received wonderful guidance on this process and found a way to explain my concept. The layout of the application helped me to clarify my purpose and plan my research process.
How much did your mentor help you with this?
I met with her many times to review my proposal to make sure it was clear and concise.
What is your advice to other students about getting involved in research?Don't hesitate to seek guidance from mentors. Take this wonderful opportunity of a URA and run with it!
What are your career goals?
To use my knowledge of art within education or research to approach social issues. I would like to dance professionally and work with nonprofits focused on environmental sustainability or community art.
What has been the hardest part about your research?
Maintaining focus on only what is necessary. Many disciplines and resources are related to my topic, so I must make sure not to branch out into too many directions at once, but rather integrate my new knowledge. It is common to look at environmental sustainability from a scientist's point of view, but less common from artist's stance. But, this makes my project all the more intriguing.
What was the most unexpected thing?
Making great friendships with people at the SEEDS festival, which I attended in July 2010. A dance and video project developed organically throughout the festival amongst myself and a diverse group of strangers. This mini project serves as an experience that I can draw from to complete my own research at UMBC. I expected to learn much from experience, but the SEEDS festival was a total  learning experience in sustainability and dance, from living on their land for the week to collaborating and improvising with participants from various backgrounds and stages of life.
How does your research relate to your work in other classes?
My research incorporates what I have learned in previous dance and art courses, and an INDS seminar on Sustainable Design, which contributed most to my concept for the project. My current classes are all about interactions, such as group dance composition, interactions between humans and technology, and the line between art and life. The research I have completed so far has changed my perspective on these interactions, and these classes influence my research.
---
See Emily's performance:
Watch Emily's presentation: