24th Annual Undergraduate Research
and Creative Achievement Day
April 22, 2020
Undergraduate Research and Creative Achievement Day (URCAD) features research, scholarship, and creative work carried out by UMBC undergraduates. Student work is shared through oral presentations, posters, artistic exhibits, performances, and film. Over 300 presenters participate annually. Researchers work with faculty mentors on independent research, or research that is part of the mentor's on-going projects.  They are from all disciplines, and can be working on a thesis, capstone project, part of a scholars or honors program, or they can be unaffiliated.This campus-wide celebration of achievement affirms UMBC's commitment to the twin goals of research and a distinctive undergraduate experience.
All current undergraduates who have conducted research, scholarship or creative work in the last year may apply to present their results at URCAD. Mentors, fellow students, friends, family members, high school teachers and students, graduate school recruiters, and the general public are invited to attend.
URCAD 2019 Photos

UC 310 / 312
UC Ballroom
Dance Cube
Key Dates for URCAD 2020
January 2, 2020
First day applications will be accepted.
February 10, 2020
Application deadline for MARC and McNair students.
February 10, 2020
Application deadline for education students presenting SLOPE work.
February 22, 2020
Deadline for completed online application for all students. (inclusive of faculty mentor's recommendation.)
March 30, 2020
Schedule of oral presentations, poster sessions, artistic exhibits, and artistic performances for April 25 will be posted to web.
March-April, 2020
Faculty-directed workshops provide guidance in the professional delivery of oral presentations and poster sessions. Workshops are typically scheduled during the free hour.
Effective Posters, Wednesday March 27, 2020 12-12:50 p.m., with professor Raimi Quiton. Location: LH-1.
Oral Presentation Strategies, Wednesday April 3, 2020 12-12:50 p.m., with professor Timothy Phin. Location: AD 101.
Wednesday, April 22, 2020
The 24nd Annual Undergraduate Research and Creative Achievement Day.
---
Eric Grollman, URCAD 2019 Alumni Keynote Speaker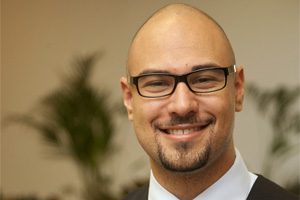 Dr. Eric Anthony Grollman (they/them/theirs) is a Black queer non-binary intellectual activist and Assistant Professor of Sociology at the University of Richmond. Their research spans three areas: the negative impact of discrimination on victims' health; sexual orientation differences in social and political attitudes; and, the limits of dominant group members' tolerance of marginalized groups. They recently co-edited an anthology entitled Counternarratives from Women of Color Academics: Bravery, Vulnerability, and Resistance with Dr. Manya C. Whitaker.  In promoting social justice in and through sociology, they founded the blog ConditionallyAccepted.com (a weekly career advice column for marginalized academics on Inside Higher Ed), co-founded Sociologists for Trans Justice, and pursued various initiatives to address sexual violence in academia. Dr. Grollman ('07) began at UMBC as a Meyerhoff Scholar majoring in math before leaving the program to double major in sociology and psychology, and pursue a certificate in gender and women's studies. They served as secretary of the Freedom Alliance, and secretary and then president of the Student Events Board. As a scholar-activist, they pushed for the creation of a campus resource center for LGBTQ students ("the Rainbow Center"), using their honors thesis research to document the prevalence of anti-lesbian and -gay attitudes on UMBC's campus as evidence that such a center was needed. They presented the findings of their honors thesis at URCAD in 2007, published their thesis in the UMBC Review in 2008, and later co-authored a paper in International Journal of Sexual Health with their advisor, Dr. Ilsa Lottes, using their honors thesis data.
---
Parking Information:
Parking is strictly regulated and parking rules enforced throughout campus. Off-campus guests, please select one of the paid parking options below for parking to avoid a ticket.
Guests may park (and pay at the pay station) in any of the seven public lots on campus:

Administration Drive Garage (upper level only)
Commons Garage (lower level only)
Walker Ave. Garage
Lot 7
Lot 8
Lot 9
Stadium Lot