Undergraduate Research and Creative Achievement Day (URCAD) features research, scholarship, and creative work carried out by UMBC undergraduates. Student work is shared through oral presentations, posters, artistic exhibits, performances, and film. Over 300 presenters participate annually. Researchers work with faculty mentors on independent research, or research that is part of the mentor's on-going projects.  They are from all disciplines, and can be working on a thesis, capstone project, part of a scholars or honors program, or they can be unaffiliated.This campus-wide celebration of achievement affirms UMBC's commitment to the twin goals of research and a distinctive undergraduate experience.
All current undergraduates who have conducted research, scholarship or creative work in the last year may apply to present their results at URCAD. Mentors, fellow students, friends, family members, high school teachers and students, graduate school recruiters, and the general public are invited to attend.
---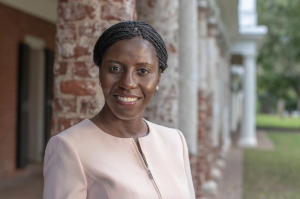 Our guest speaker is Dr. Keisha John, Associate Dean for Diversity and Inclusion, Graduate School of Arts &Sciences, University of Virginia
While at UMBC, Dr. John wasa Meyerhoff Scholar, and worked with her mentor, Dr. Rachel Brewster as one of the first undergraduate researchers in her lab. You can read more about her here
URCAD Featured Interview: Saida Muktar
Key Dates for URCAD 2020
January 2, 2020
First day applications will be accepted.
February 10, 2020
Application deadline for MARC and McNair students.
February 10, 2020
Application deadline for education students presenting SLOPE work.
February 14, 2020
Deadline for completed online application for all students. (inclusive of faculty mentor's recommendation.)
March 30, 2020
Schedule of oral presentations, poster sessions, artistic exhibits, and artistic performances for April 25 will be posted to web.
March-April, 2020
Faculty-directed workshops provide guidance in the professional delivery of oral presentations and poster sessions. Workshops are typically scheduled during the free hour.
Effective Posters, Wednesday March 27, 2020 12-12:50 p.m., with professor Raimi Quiton. Location: LH-1.
Oral Presentation Strategies, Wednesday April 3, 2020 12-12:50 p.m., with professor Timothy Phin. Location: AD 101.
Wednesday, April 22, 2020
The 24nd Annual Undergraduate Research and Creative Achievement Day.
---
Parking Information:
Parking is strictly regulated and parking rules enforced throughout campus. Off-campus guests, please select one of the paid parking options below for parking to avoid a ticket.
Guests may park (and pay at the pay station) in any of the seven public lots on campus:

Administration Drive Garage (upper level only)
Commons Garage (lower level only)
Walker Ave. Garage
Lot 7
Lot 8
Lot 9
Stadium Lot