UMBC's 24th Annual Undergraduate Research and Creative Achievement Day
(URCAD) was originally scheduled to be held on campus on April 22, 2020. Due to the campus closure, URCAD will be moving online, April 22-29th.
Converting URCAD from an on-campus, day-long symposium to an online event will be supported by a technology called VoiceThread (VT), an asynchronous ("not in real time") platform for media-rich conversations that can occur anytime, anywhere. This means attendees will still be able to see students' research posters and slides, as well as art, performances, films, and video games, and be able to leave video, voice, or text feedback for the presenters. This way, participants create a sense of personal "presence" in the online environment, and students will be able to respond to questions and receive feedback during the week-long event.
We hope to preserve the spirit of URCAD and make this a meaningful, learning, sharing, and celebratory event for our campus community.
Check in with urcad.umbc.edu for updates.
Undergraduate Research and Creative Achievement Day (URCAD) features research, scholarship, and creative work carried out by UMBC undergraduates. Student work is shared through oral presentations, posters, artistic exhibits, performances, and film. Over 300 presenters participate annually. Researchers work with faculty mentors on independent research, or research that is part of the mentor's on-going projects.  They are from all disciplines, and can be working on a thesis, capstone project, part of a scholars or honors program, or they can be unaffiliated.This campus-wide celebration of achievement affirms UMBC's commitment to the twin goals of research and a distinctive undergraduate experience.
All current undergraduates who have conducted research, scholarship or creative work in the last year may apply to present their results at URCAD. Mentors, fellow students, friends, family members, high school teachers and students, graduate school recruiters, and the general public are invited to attend.
---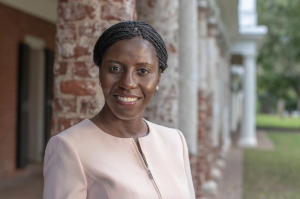 Our guest speaker is Dr. Keisha John, Associate Dean for Diversity and Inclusion, Graduate School of Arts & Sciences, University of Virginia
While at UMBC, Dr. John was a Meyerhoff Scholar, and worked with her mentor, Dr. Rachel Brewster as one of the first undergraduate researchers in her lab. You can read more about her here
URCAD Featured Interview: Saida Muktar
Key Dates for URCAD 2020
January 2, 2020
First day applications will be accepted. Applications are now closed!
February 10, 2020
Application deadline for MARC and McNair students.
February 10, 2020
Application deadline for education students presenting SLOPE work.
February 14, 2020
Deadline for completed online application for all students. (inclusive of faculty mentor's recommendation.)
March 25, 2020
URCAD Poster Prep Workshop with Prof. Raimi Quiton 12-1pm in LH1
March 29, 2020
URCAD Oral Presentation Workshop with Prof.Tim Phin in ITE 102 (LH 8)
Wednesday, April 22, 2020
The 24nd Annual Undergraduate Research and Creative Achievement Day.
Wednesday, April 22, 2020
The 24nd Annual Undergraduate Research and Creative Achievement Day.
---
Parking Information:
Metered parking is available for off-campus visitors at three locations:
Administration Drive Garage (Closest to the UC Ballroom.)
Commons Drive Garage
Walker Avenue Garage
Page updated 2/21/2020