22nd Annual Undergraduate Research and
Creative Achievement Day
April 25, 2018
Undergraduate Research and Creative Achievement Day (URCAD) features research, scholarship, and creative work carried out by UMBC undergraduates. Student work is shared through oral presentations, posters, artistic exhibits, performances, and film. Over 300 presenters participate annually. Researchers work with faculty mentors on independent research, or research that is part of the mentor's on-going projects.  They are from all disciplines, and can be working on a thesis, capstone project, part of a scholars or honors program, or they can be unaffiliated.This campus-wide celebration of achievement affirms UMBC's commitment to the twin goals of research and a distinctive undergraduate experience.
All current undergraduates who have conducted research, scholarship or creative work in the last year may apply to present their results at URCAD. Mentors, fellow students, friends, family members, high school teachers and students, graduate school recruiters, and the general public are invited to attend.
The Potential of URCAD.
Key Dates for URCAD 2018
January 2, 2018
First day applications will be accepted.
February 1, 2018
Application deadline for current URA Scholars.
February 10, 2018
Application deadline for MARC and McNair students.
February 10, 2018
Application deadline for education students presenting SLOPE work.
February 26, 2018
Deadline for completed online application for all students. (inclusive of faculty mentor's recommendation.)
March 30, 2018
Schedule of oral presentations, poster sessions, artistic exhibits, and artistic performances for April 25 will be posted to web.
March-April, 2018
Faculty-directed workshops provide guidance in the professional delivery of oral presentations and poster sessions. Workshops are typically scheduled during the free hour.
Effective Posters, Wednesday March 28, 2018 12-12:50pm, with professor Raimi Quiton. Location TBA.
Oral Presentation Strategies, Wednesday April 4, 2018 12-12:50pm, with professor Timothy Phin. Location TBA.
Wednesday, April 25, 2018
The 22nd Annual Undergraduate Research and Creative Achievement Day.
---
Isaac Kinde, URCAD 2018 Alumni Keynote Speaker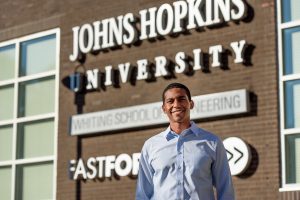 Dr. Isaac Kinde is a nationally recognized innovator of molecular cancer diagnostics. He holds an M.D./Ph.D. from the Johns Hopkins University School of Medicine. His doctoral research produced novel cancer diagnostics based on improvements in DNA sequencing technology and was awarded the Hans Joaquim Prochaska Research Award. Notable applications of his work include a prototype screening test for ovarian and endometrial cancers from liquid-based Pap tests, a noninvasive method of monitoring bladder cancers from urine, and a revelation in the development of treatment resistance from analyzing the blood of patients with colon cancer. Descriptions of his inventions and their applications appear in prominent scientific journals – such as Science Translational Medicine, Proceedings of the National Academy of Sciences, and Nature – and are the subject of several patents. His work has attracted considerable attention from industry, spurring partnerships to facilitate its commercialization, including PapGene, Inc., a molecular diagnostic startup where he currently serves as chief scientific officer. He has been recognized as one of Forbes Magazine's '30 under 30' in Science and Healthcare and a 'Game Changer' by Men's Fitness. Isaac received a B.S. in Biological Sciences from the University of Maryland, Baltimore County in 2005, where he worked with research mentor, Dr. Michael Summers. At UMBC, he was an Undergraduate Research Award (URA) Scholar and URCAD presenter (2004-05), a Meyerhoff Scholar, and received the Faculty Award of Excellence in the Biological Sciences.
---
Parking Information:
Parking is strictly regulated and parking rules enforced throughout campus. Off-campus guests, please select one of the paid parking options below for parking to avoid a ticket.
Guests may park (and pay at the pay station) in any of the seven public lots on campus:

Administration Drive Garage (upper level only)
Commons Garage (lower level only)
Walker Ave. Garage
Lot 7
Lot 8
Lot 9
Stadium Lot