ATTENTION: For more information on the Goldwater Scholarships, download this pdf document.
2023 Scholars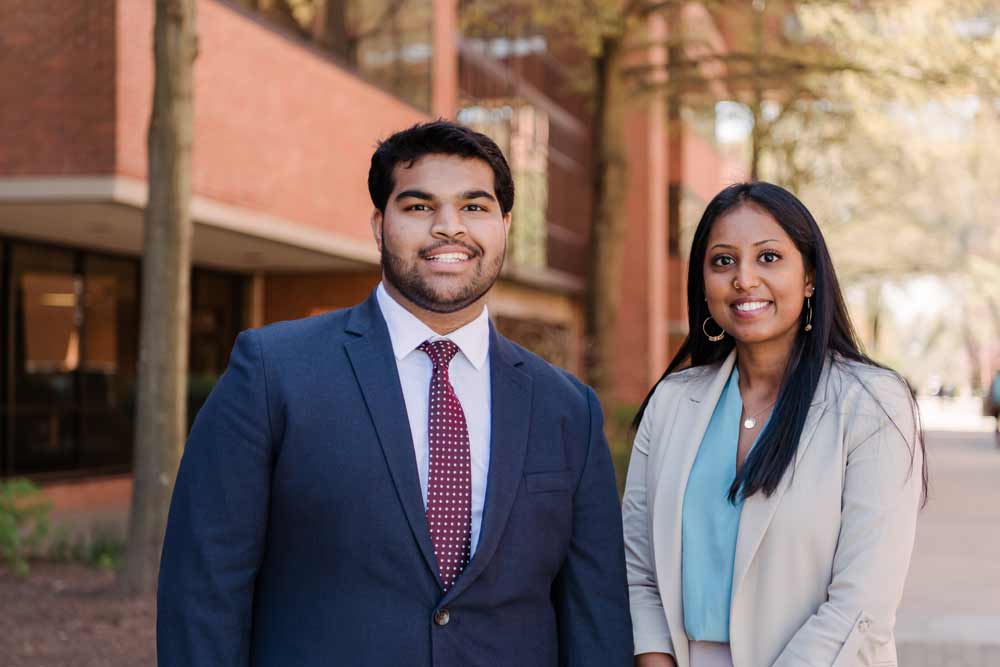 Arjun Kanjarpane '24, M32, biochemistry and molecular biology, and Soujanya "Anya" Viswanathan '24, M32, biological sciences, are the latest UMBC students to be named Goldwater Scholars. By pursuing their research interests—virology for Kanjarpane and neuroscience for Viswanathan—with rigor and dedication, both have the potential to make a major impact in their fields and in people's lives.
As Scholars, Kanjarpane and Viswanathan will receive substantial funding that advances their undergraduate work and supports their educational paths. They will also gain access to a network of current and former Goldwater Scholars, many of whom are conducting research at the leading edge of their fields.
"We are delighted that UMBC has continued its impressive string of Goldwater awards for this year," says April Householder '95, visual arts, director of undergraduate research and prestigious scholarships. "This indicates just how strong STEM education at UMBC is—indeed, it's among the best in the country."
Read more about our scholars here.
Past Scholars
Select on the selection(s) below to view past scholars.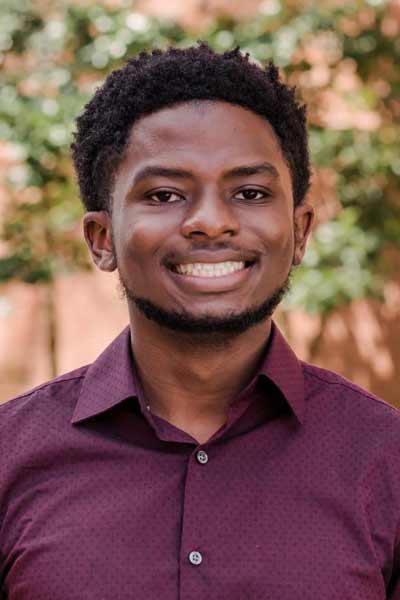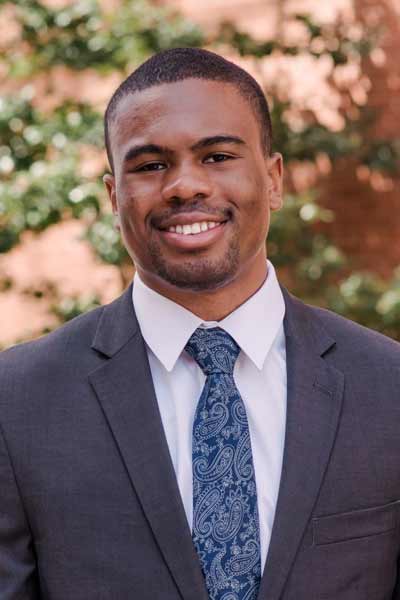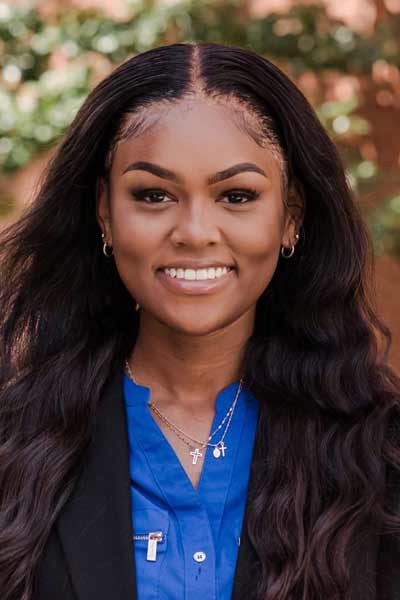 Four UMBC students have been named 2022-23 Goldwater Scholars, tying the university's past record, set just last year. This year's recipients are (L-to-R) Christopher Slaughter '23, computer engineering; Rachel Myers '23, chemical engineering; Tobi Majekodunmi '23, mechanical engineering; and D'Juan Moreland '23, biological sciences and music.
When Slaughter learned that he had been selected for the scholarship, it brought tears to his eyes, he shares. It has renewed his commitment to pursuing research, even when presented with obstacles. And he can't wait to meet the Goldwater community that will help him surpass those obstacles. "I am looking forward to connecting with other Goldwater Scholars and joining their network, and to meeting other scholars who are in similar fields," he says.
"The most pivotal contributions to my essays came from several of my mentors, some of whom were previous Goldwater awardees. They took time out of their busy schedules to review my work and provide helpful feedback," he says. "Although arduous and filled with many late nights, participating in this process has strengthened and increased my confidence in my technical writing skills."
Like Majekodunmi and Moreland, Myers shares that she was supported by mentors, family, advisors, and fellow students throughout the Goldwater application. She was at the National Society of Black Engineers Convention with Majekodunmi and Slaughter when she received the email announcing that she received the award.
"I was absolutely elated and felt so honored," she recalls. "All I could think was, 'Wow, what I represent matters. What my fellow awardees represent matters,'" Myers says.
Reflecting on the power of that moment, she shares, "I just imagined a young black girl from a community like mine, seeing me in this position and saying to herself, 'So I can definitely do that too,' just as I've said when I met women like Dr. Kizzmekia Corbett in high school or Dr. Lola Eniola-Adefeso during my freshman year at UMBC."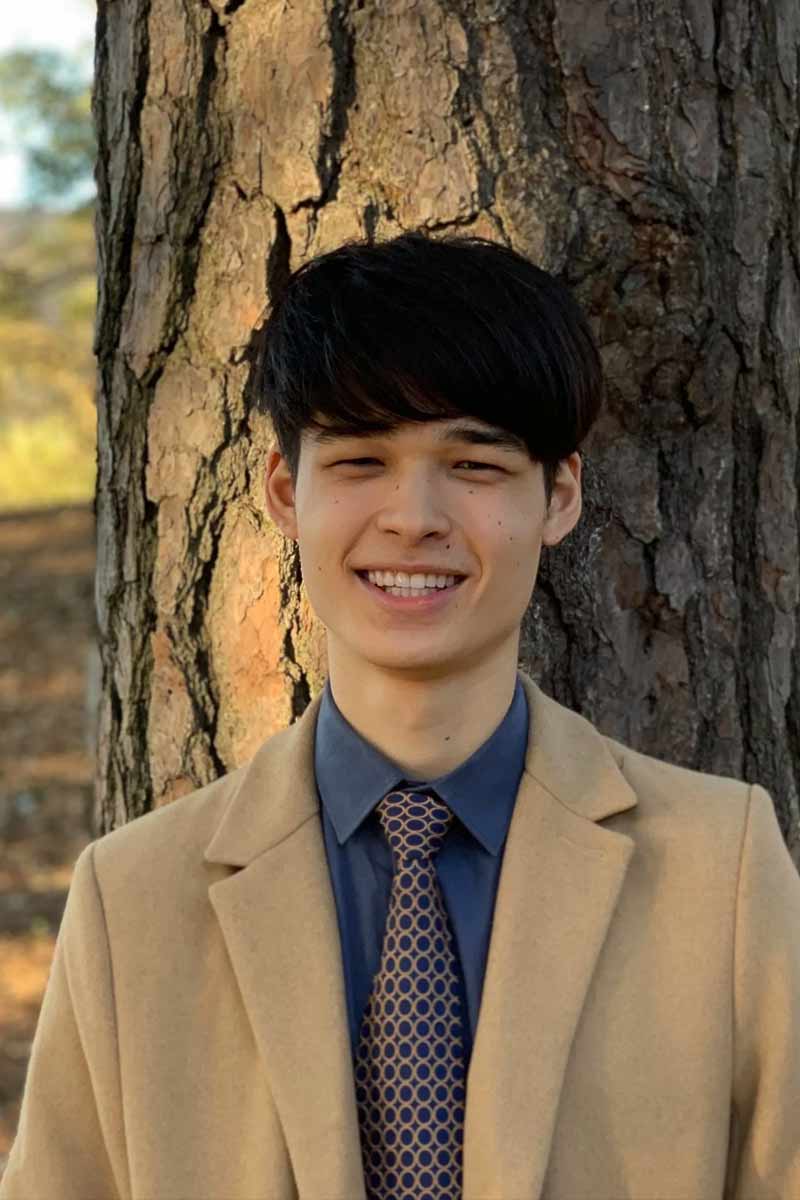 Gerson Kroiz '22, Mathematics
Goldwater Scholar 2021
Gerson Kroiz began his UMBC undergraduate experience at 16 years old, passionate to pursue research with public impact. He had his eye on the Goldwater Scholarship early, knowing the doors it could open. Receiving the Goldwater "really validates where I am at, and the hard work that I've put into my academic path," as well as the value of UMBC support for undergraduate researchers, he says.
Kroiz has refined his research interests through experiences at institutions across the country. This past summer, he completed a virtual internship at UCLA, adding to his resume of internships at the National Institute of Standards and Technology and UMBC.
Today, Kroiz's research focuses on using machine learning techniques to improve real-time imaging for safer cancer treatments. The technology he studies will help physicians treat people with cancer by "reducing possible side-effects from common cancer treatment methods," Kroiz explains.
---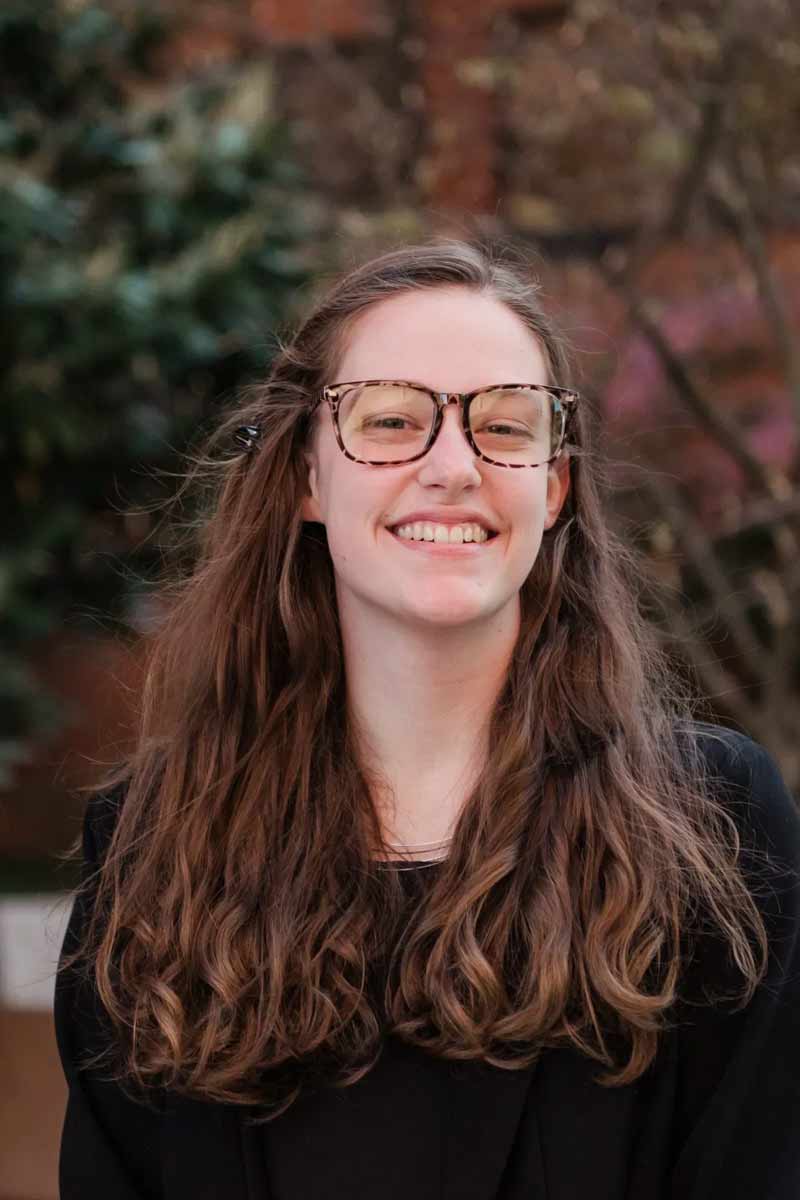 Kaitlynn Lilly '22, Physics and Mathematics
Goldwater Scholar 2021
Lilly's research focuses on using partial differential equations to understand how large structures, such as bridges, interact with air flow and are impacted by aerodynamics. Lilly currently conducts research with Justin Webster, assistant professor of mathematics. Webster himself received a Goldwater Scholarship in 2007 and knows the impact of receiving the award.
Webster and Lilly are also collaborating with researchers at Carnegie Mellon University. Lilly also has experience working with Carnegie Mellon researchers through an enriching virtual internship last summer, secured after her internship at MIT's Lincoln Lab was cancelled due to COVID-19.
In addition to conducting research at Carnegie Mellon and UMBC, she has completed internships at the Johns Hopkins Applied Physics Lab and University of Hawaii. This summer, Lilly plans to conduct research at the University of Leiden in the Netherlands.
---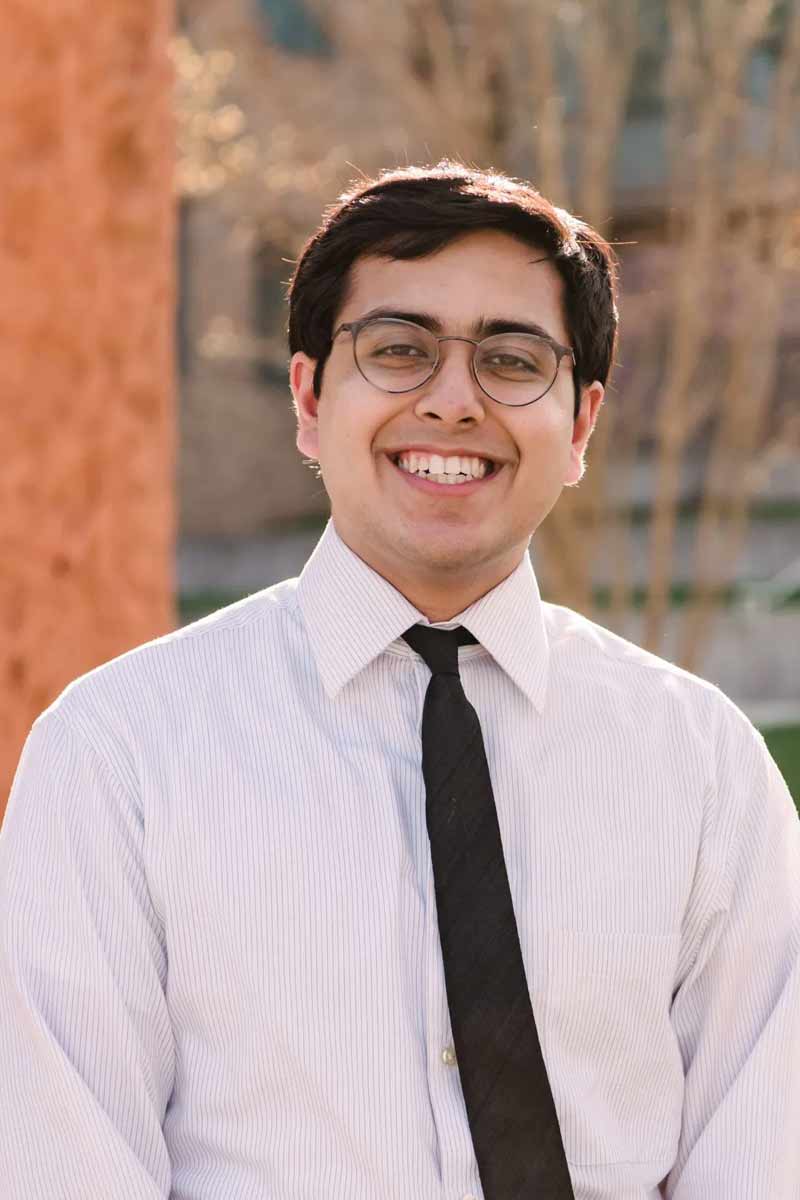 Karan Luthria '22, Bioinformatics
Goldwater Scholar 2021
Luthria explains that he is looking at "how previously developed drugs can be used to treat different conditions." Although he has been working on this research since freshman year, and has presented his findings at conferences around the country, he says COVID-19 has brought much attention to the value of drug repurposing.
On the day that the Goldwater Scholarship recipients were announced, Luthria refreshed the award page, awaiting the results. When he finally saw his name appear, "I was humbled," he says. "Just seeing how I have the potential to make a difference in science and to have my research recognized by the Goldwater Committee is exciting."
Luthria has held several internships, including at Harvard Medical School, the National Institutes of Health (NIH), and the Johns Hopkins Applied Physics Lab. Maricel Kann, associate professor of biological sciences, is his research mentor at UMBC. He says that Kann and his mentors at Harvard and at the NIH played a particularly important role in supporting him to achieve his career goals and throughout the Goldwater application process.
---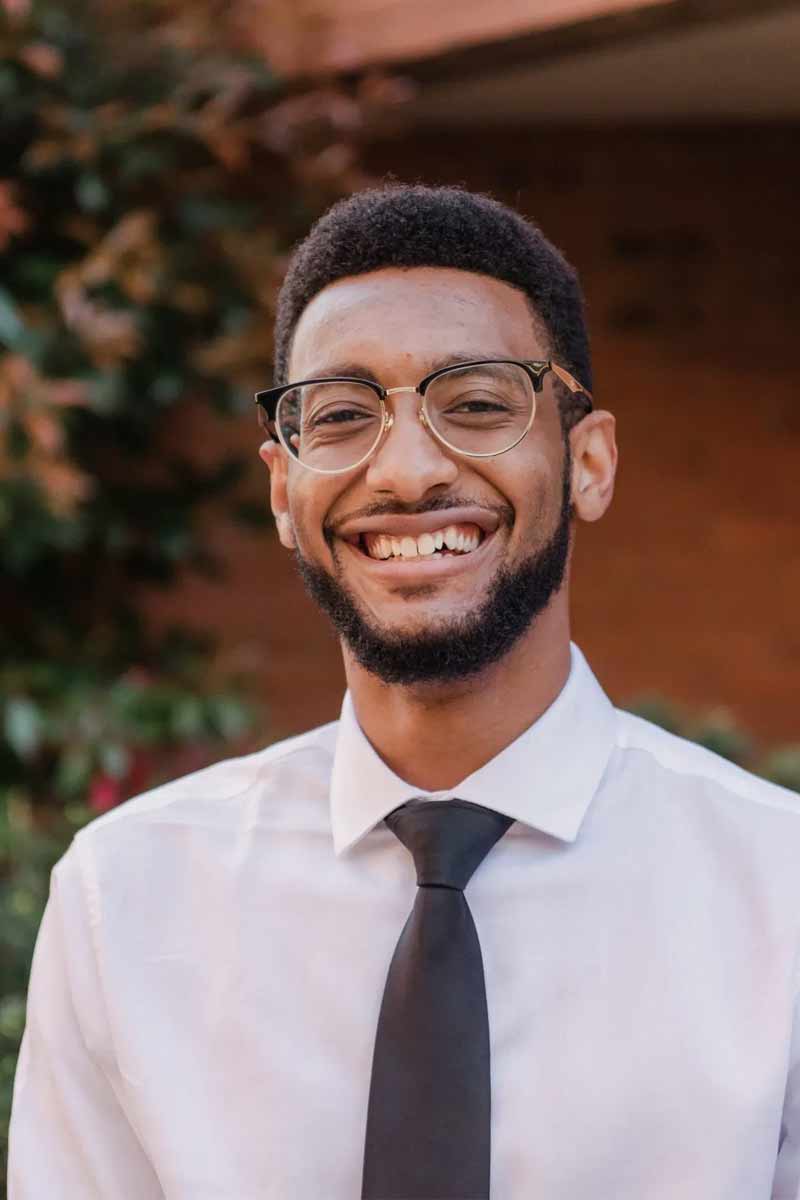 Joshua Slaughter '22, Computer Engineering
Goldwater Scholar 2021
Currently, Slaughter works with Distinguished University Professor Tulay Adali, computer science and electrical engineering (CSEE). Their machine learning research has applications in fields like neuroimaging, which uses data-driven algorithms to identify features of neurological disease. Slaughter says that it's essential to diversify the field of machine learning and that people of all backgrounds need to be involved in the development of algorithms.
"Machine learning algorithms will be crucial in future decision-making. If they are developed without intersectionality being considered, we will have nightmarish outcomes for certain underrepresented populations," he explains. "That's a huge reason why I'm pursuing machine learning."
When Slaughter applied to UMBC, he already had his sights set on the Goldwater. He was researching in the lab when he learned he won the scholarship—working alone due to COVID-19 restrictions. "I screamed," he said, overjoyed by the news.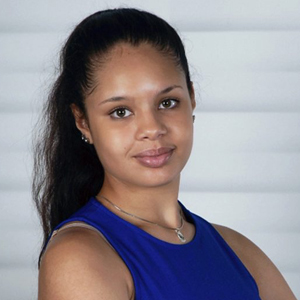 Dominique Brooks, '21 Biological Sciences
Goldwater Scholar 2020
Brooks is involved in research through the Meyerhoff, MARC U*STAR, and HHMI Scholars programs. For Brooks, the community generated through these scholars programs has been critical to her success.
Brooks has received awards for her research posters at the Annual Biomedical Research Conference for Minority Students and UMBC's Undergraduate Research Symposium in the Chemical and Biological Sciences. She is also highly engaged in leadership, service, and mentoring through several organizations.
Brooks serves as a student justice in UMBC's Office of Student Conduct and Community Standards and tutors for UMBC's introductory biology courses. She also volunteers with the Global Brigades international service organization and the student-led STAR STEM outreach program.
"My peers will forever keep me motivated and focused on achieving my academic and career goals," Brooks says. "I would also like to thank the staff members of these programs for caring about my future and providing a nurturing environment for me to seek guidance."
---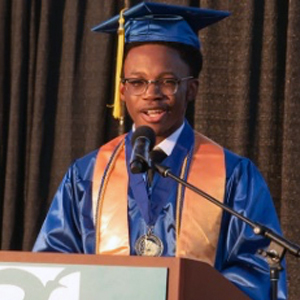 Olumide Fagboyegun, '21 Biochemistry
Goldwater Scholar 2020
Fagboyegun served as a STEM Ambassador and supplemental instruction leader for general chemistry at Anne Arundel Community College. He participates in the STAR STEM outreach program at UMBC. He is also a member of the Sigma Lambda Alpha Honor Society, a Meyerhoff and MARC U*STAR Scholar, and part of the LSAMP program.
Olumide Fagboyegun came to UMBC after graduating from Anne Arundel Community College as its valedictorian in 2018, and has focused his research on how the brain works.
Fagboyegun has worked with both Erin Green, assistant professor of biological sciences at UMBC, and John Cirrito, associate professor of neurology at Washington University in St. Louis (WashU). Doing research has fueled his desire to pursue basic science on brain function, in hopes of contributing to improved therapies for neurological disorders such as Parkinson's and Alzheimer's diseases.
"This [scholarship] is a sign to other community college transfer students that such an accomplishment is definitely within reach," he says, "and that UMBC has the ability to help them achieve it."
---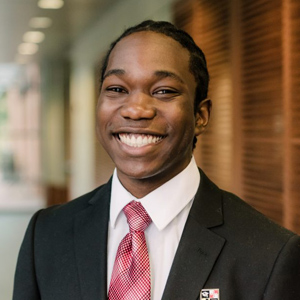 Jordan Troutman, '21 Computer Science and Mathematics
Goldwater Scholar 2020
Jordan Troutman is a Goldwater Scholar. Troutman currently serves as student commissioner for the Maryland Higher Education Commision (MHEC), and is committed to both research and leadership. His research, at the intersection of technology and policy, focuses on eliminating biases in computer algorithms. Troutman explains that artificial intelligence and machine learning have changed how the world operates in complex ways. Those impacts aren't uniformly positive or equitable. Built by people, these technologies can include discriminatory biases that can impact how people are treated and cared for.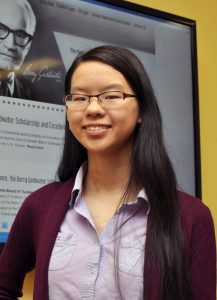 Linda Wiratan, '19 Biochemistry and Molecular Biology major with a minor in creative writing
Goldwater Scholar 2018
Hometown: Ellicott City, MD.
She is a member of the Honors College, a URA Scholar and URCAD presenter, published poet, and has a 4.0 GPA. As a representative of science, she hopes to improve its public perception by advancing its approachability. To this end, in addition to all of her academic achievements, Linda is the founder of City of Cells, LLC, a science-focused organization with the mission of improving the public perception of science through interactive and creative means such as blogs, science-inspired products, and educational animation. She will pursue a Ph.D. in Cell or Molecular Biology and conduct protein dynamics research. She has won various awards for her research posters, and has consistently been named to the Dean's and President's lists at UMBC. Most impressively, she has co-authored four articles with her mentors, Hua Lu and Marcin Ptaszek, in peer reviewed journals, including Nature Communications, Inorganic Chemistry, and Organic Letters.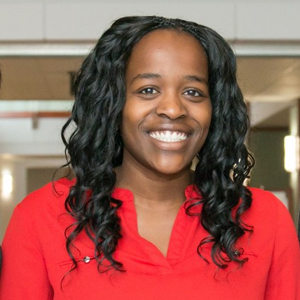 Naomi Mburu, '18 Chemical Engineering
Goldwater Scholar 2016
Hometown: Ellicott City, MD
While at UMBC, Naomi has been active in many leadership positions. She has served as President of the National Society of Black Engineers-NSBE, Regional Vice Chair of NSBE, Pre-college Initiative chair for NSBE, and was a Math Coach at Lakeland Elementary/Middle school. She is also the Secretary of Perfected Praise Liturgical Dance Ministry, and a Meyerhoff Scholar.
Naomi works in Dr. Gymama Slaughter's laboratory in the Computer Engineering department on developing self-powered biofuel cells. Her research interests include energy and technology (such as 3D printing, circuits, etc). She has participated in multiple summer research opportunities, including having worked on 3D printing an artery for use in drug delivery at Vanderbilt University for an REU (Research Experience for Undergraduates) the summer after her freshman year. She has also worked on monitoring the gas systems used on the muon detectors employed on the Large Hadron Collider at CERN (European Center for Nuclear Research) in Geneva, Switzerland the summer after her sophomore year. She is currently interning at Intel doing supply chain research.
Naomi will be applying for Ph.D. programs in the fall, and wants to work in industry developing new technologies. Her hobbies include running and traveling.
---
Daniel Ocasio, '17 Chemical Engineering
Goldwater Scholar 2016
Hometown: Severn, Maryland
Daniel Ocasio, valedictorian for UMBC's Class of 2017, is a first generation college student who hit the ground running at UMBC, as an inspiring leader in research, academic, and student professional organizations.
Ocasio is a Meyerhoff Scholar, MARC U*STAR Scholar, Howard Hughes Medical Institute Scholar, and member of the Honors College. In 2016, he was one of three UMBC students to receive the prestigious Barry M. Goldwater Scholarship. He has also received the National Science Foundation's highly competitive Graduate Research Fellowship and a GEM Fellowship, which provides opportunities for highly qualified students from underrepresented communities in applied sciences and engineering.
Much of Ocasio's research has focused on water quality and water treatment. He credits working in the lab of Lee Blaney, assistant professor of chemical, biochemical and environmental engineering, with helping to push him beyond his expectations for the undergraduate experience, and to actively pursue a career as a researcher.
Ocasio founded the UMBC chapter of the Society of Hispanic Professional Engineers (SHPE), and received a notable recognition for presenting his research at a national SHPE conference. He has also presented award-winning research at the Annual Biomedical Research Conference for Minority Students and UMBC's own College of Natural and Mathematical Sciences Symposium. Ocasio has twice served as vice president of the Tau Beta Pi engineering honors society, and has received a national Tau Beta Pi scholarship.
Outside of the classroom and lab, Ocasio cofounded a mentoring program for middle school students in Baltimore City: Achievement and Inspiration through Mentorship (AIM). The program prepares college students to serve as effective, committed mentors through a semester-long training, and facilitates their work with middle school students.
Ocasio will attend the University of California, Berkeley in the fall, where he will pursue his Ph.D. in environmental engineering. His research will focus on developing improved water treatment techniques and technologies.
UMBC fosters a diverse community where everyone has a chance to thrive in their own unique way. As a Meyerhoff Scholar, MARC U*STAR Scholar, HHMI Scholar, and Honors College member, I have built a fortified support system that is rare to find.
---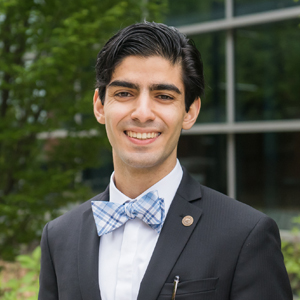 Andreas Seas, '17 Chemical Engineering
Goldwater Scholar 2016
Hometown: Ellicott City, Maryland
Andreas Seas' research interests and passions span all three colleges at UMBC, and have taken him from labs at UMBC and other top research institutions to concert halls and Baltimore City high school classrooms.
Seas was one of three exceptional UMBC students to receive the prestigious Barry Goldwater Scholarship in 2016. He is a Meyerhoff Scholar, MARC U*STAR Scholar, and recipient of a NASA scholarship, and has also completed research with biomedical and surgical faculty at the University of Nebraska Medical Center. His research on the mechanics of the femoral artery and the pathology of peripheral arterial disease led him to publish five peer-reviewed articles and submit seven abstracts to notable professional conferences.
On campus, Seas has served on the UMBC Honors College Council, coordinating events and projects to complement the Honors College experience. His mentors include Mariajose Castellanos, lecturer of chemical, biochemical and environmental engineering; Jacqueline King, assistant director of the MARC U*STAR Program; Keith Harmon, director of the Meyerhoff Scholars Program; and Simon Stacey, interim vice provost and dean of undergraduate education. His academic achievements have earned his induction into three honors societies: Phi Beta Kappa, Phi Kappa Phi, and Tau Beta Pi.
When not in the classroom or the lab, Seas has served as a mentor in Baltimore's Medical Education Resources Initiative for Teens (MERIT) Program, which works to support the next generation of diverse healthcare professionals. Connecting with peers, he has worked as a teaching assistant in biological sciences and a learning assistant in physics. Seas also enjoys the arts as a Greek folk dance instructor and as a viola player in the UMBC Community Symphony, where he is an assistant conductor.
In the fall, Seas will pursue joint M.D./Ph.D. degrees with a focus on biomedical engineering at Duke University.
"UMBC has provided an environment of brilliant, supportive students who have helped keep me motivated and excited, as well as a team of teachers and advisors who cared about supporting and pushing me."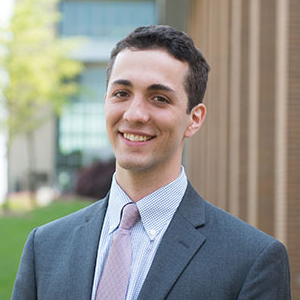 Michael Moubarek, '14 Biochemistry and Molecular Biology
Goldwater Scholar 2014
Hometown: Germantown, Maryland
As a teenager, Michael wasn't sure he would graduate high school. Now, he is graduating from UMBC as valedictorian with a 4.0 GPA – an accomplished researcher, community leader, and committed mentor to younger students. After working as a researcher at Massachusetts General Hospital his goal is to earn an M.D./Ph.D. and pursue a career in emergency medicine. In his first semester at UMBC, Michael emailed Dr. Charles Bieberich to ask about research opportunities. Before long, he made notable contributions to the lab's prostate cancer research, eventually co-authoring a journal article on his work. He was elected to Phi Beta Kappa and received a prestigious Goldwater Scholarship. He has served in a leadership role in UMBC's strategic planning process, collaborating with faculty, staff, and students from across campus to articulate the university's future priorities. Beyond the classroom, Michael has been assistant captain of UMBC's club sailing team and worked as a trained ski patroller.
"UMBC has been an incredible springboard for my interests, both academically and personally. It is a special community where students are able to take the initiative and bring about change. Wonderful faculty and staff strive to be accessible and engaging both inside the classroom and out."
---
Akua Nimarko, '15 Biological Sciences and Psychology
Goldwater Scholar 2014
Hometown: Columbia, Maryland
When Meyerhoff Scholar and valedictorian finalist Akua joined a UMBC research lab at the end of her freshman year, it opened up a world of professional opportunities. Since then, she has presented her research at conferences around the country, been published in Frontiers in Cellular Neuroscience, and worked in several Ivy League research labs, including Nobel Prize winner Eric Kandel's lab at Columbia University. These accomplishments enabled her to win the prestigious Goldwater Scholarship, a national scholarship for undergraduates in the sciences. Akua is also involved in many campus organizations, serving as vice president of the Food Recovery Network, a member of the Student Hearing Board, and SUCCESS peer with The Shriver Center. This summer, she will participate in the Lindau Nobel Laureate Meeting, a scientific conference in Germany that brings young researchers together with Nobel prize winners, before starting a neuroscience Ph.D. program at Stanford.
"Faculty, staff, and students at UMBC constantly motivate me to try new things. At UMBC, I have also been able to explore my non-science interests, both inside and outside of the classroom. These experiences have furthered my development into a well-rounded individual."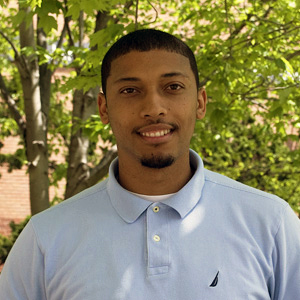 Robert Douglass Wardlow II, '12 Biochemistry and Molecular Biology
Goldwater Scholar 2011
Hometown: Cherry Hill, New Jersey
As the salutatorian of the class of 2012, Robert Wardlow's career at UMBC has been full of accomplishments. A Meyerhoff Scholar, Barry M. Goldwater Scholar, Howard Hughes Medical Institute Scholar and Rhodes Scholarship finalist, he has presented his research at 12 conferences and symposia, earning numerous awards. Robert's research focuses on chemical signaling of heart cells and the potential of certain stem cells for providing therapeutic benefits for damaged cells. Excellence in scholarship is intimately connected to community service for Robert. He co-founded the student group Men Achieving Leadership, Excellence and Success (MALES) to promote community activism, leadership and academic excellence. Robert's accomplishments have earned him admission into the Phi Beta Kappa, Phi Kappa Phi and Golden Key International honor societies, and he received the HHMI Gilliam Fellowship for Advanced Study.
"UMBC has provided an environment rich in resources that has helped me to develop to a level far beyond what I could have originally expected. I was able to display tremendous personal growth over the course of my time here both academically and socially. Courses were challenging, but the school offered more than enough support in terms of tutoring and advising to help me best deal with the load. I had numerous chances to further my research career by gaining experience in research labs both in the area and around the country. I have made friends here that will hopefully last long in to the future as well as meeting mentors that will continue to guide me in the right direction. UMBC has helped me in all facets of my personal and professional development and I hope that I will be able to give back to the school in some capacity in the future."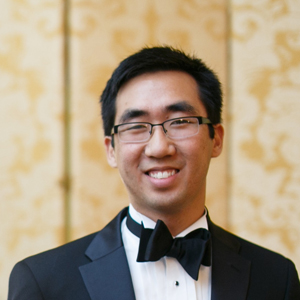 Geoffrey Clapp, '11 Mathematics and Computer Science
Goldwater Scholar 2010
Hometown: Elkridge, Maryland
Geoffrey Clapp has excelled at UMBC as both a researcher and scholar. He presented at Undergraduate Research and Creative Achievement Day three times and received first place in the Society for Industrial and Applied Mathematics 2010 Annual Meeting Undergraduate Poster Competition. He has studied the effects of sensory input from edge cells on lamprey swimming behavior, and his research was published in the UMBC Review. In 2010, he received a Goldwater Scholarship, an award presented each year to about 300 of the country's top students in science, engineering and mathematics. He also received two Undergraduate Research Awards, and he is a member of the Honors College and a UMBC Premier Scholar. He was recognized as the CNMS Outstanding Senior in Mathematics. Off-campus, he completed an internship with Northrop Grumman and participated in the NSA Mathematics Summer Employment Program.
"My experiences at UMBC have helped to reaffirm and strengthen my passion for mathematics. My courses and research have introduced me to applications of mathematics that I did not know were possible. Thanks to the support and opportunities I have received through UMBC, I will begin graduate school in the fall with a definite sense of direction and purpose."
---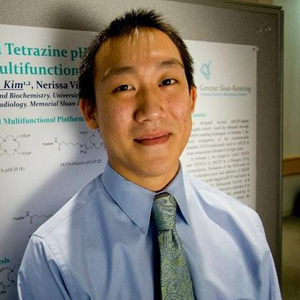 Nate Kim, '11 Chemistry and Political Science
Goldwater Scholar 2010
Hometown: Bowie, Maryland
At UMBC, Nate Kim discovered that he didn't have to choose between his passions in chemistry and political science; instead, he pursued both. A Meyerhoff Scholar, Nate received two Undergraduate Research Awards and became a member of Phi Beta Kappa. In 2010, he was awarded a Goldwater Scholarship, a national honor that recognizes about 300 of the country's top students in science, engineering and mathematics. Nate also looked beyond himself to give back to the campus community, serving as director of the SGA Office of Academic Affairs and also tutoring in the Chemistry Tutorial Center.
"My time at UMBC has been the most rewarding and dynamic four years I could have ever asked for. I was surrounded by a great support system where I could thrive as a student, as a scientist and as a campus-changer. The most important thing I've learned at UMBC is that you need to appreciate the people around you, your family, your friends and even the moment itself."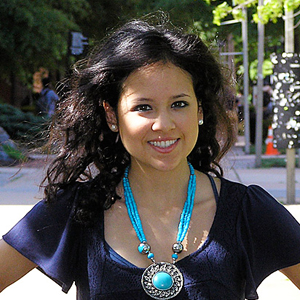 Carla Valenzuela, '10 Biological Sciences
Goldwater Scholar 2008
Hometown: Nashville, Tennessee
Meyerhoff Scholar Carla Valenzuela was a sophomore with a 4.0 GPA when she was one of 321 students to receive a 2008 Goldwater Scholarship, considered the most prestigious U.S. award for undergraduates in mathematics, science and engineering.
The Goldwater Scholarship program honors outstanding students committed to pursuing careers as research scientists. The Scholars were selected on the basis of academic merit from a field of 1,035 students.
Valenzuela, a biological sciences major, hopes to obtain a M.D./Ph.D. in neuroscience and conduct research on the potential of stem cells to serve as therapeutic tools for neurodegenerative disorders. She became interested in the field as a sophomore in high school, when she had the opportunity to work in a neuroscience laboratory.
Valenzuela traveled to Tokyo, Japan for a research internship at the Nutrition Metabolism, Metabolic Disorders Department at the Tsukuba Research Institute, Banyu Pharmaceutical Co., Ltd. She conducts research in the laboratory of Margaret M. McCarthy at the University of Maryland School of Medicine, where she studies the effect of estradiol on glial cell genesis and function in the development of the hippocampus.
Valenzuela also is a National Science Foundation S-STEM Scholar and a member of the Phi Kappa Phi honor society and the National Society for Collegiate Scholars.
"I feel so honored to have received the Goldwater Scholarship," said Valenzuela. "It really motivates me to continue working hard towards getting my M.D./Ph.D. in neuroscience and someday becoming a leader in my field."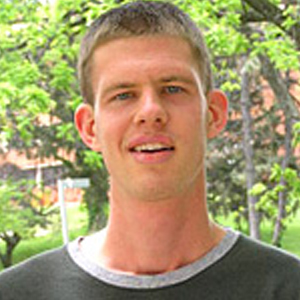 Devin Burns, '08 Mechanical Engineering
Goldwater Scholar 2006
Hometown: Smithsburg, Maryland
Devin Burns is a Meyerhoff and Goldwater Scholar and served as president of Tau Beta Pi. He received Honorable Mention for the National Science Foundation fellowship and was awarded a Whiting School of Engineering Fellowship. Under the mentorship of Professor Marc Zupan, Burns presented his work to a major journal and at prestigious research conference in his field. He completed summer research internships at the Army Research Lab, MIT and the Johns Hopkins University.
"I have been able to work closely with faculty at UMBC. This close contact has allowed me to hone my research interests and to gain valuable skills."
"I enjoy walking and running UMBC's CERA trail. It's where I go to put things in perspective."
---
Adjoa Smalls-Mantey, '07 BS in Biochemistry
Goldwater Scholar 2006
Hometown: Upper Marlboro
Adjoa Smalls-Mantey is a junior and is one of several UMBC students conducting research in UMBC's Howard Hughes Medical Institute (HHMI). Smalls-Mantey, from Upper Marlboro, Md., has worked in the lab since her freshman year. Her research involves improving the mechanics of gene therapy by focusing on the Moloney Murine Leukemia Virus (MMLV). She has participated in the Gene Search Program at Catholic University where she first learned basic lab principles. She also conducted research at Howard University and participated in the Weill Cornell/Rockefeller/Sloan-Kettering Gateways to the Laboratory Program, the first in the country designed exclusively to train undergraduate students to become successful MD-Ph.D. applicants.
"This award will help support my goal not only financially, but it also provides me with the resources and networking opportunities as a scholar and researcher," said Smalls-Mantey.
Smalls-Mantey is a trainee for the Minority Access to Research Careers (MARC), Undergraduate Student Training in Academic Research Program, UMBC's preeminent undergraduate scholarship program that aims to increase the number of persons from underrepresented groups who pursue Ph.D. degrees and careers in biomedical research or mathematics. A Meyerhoff and HHMI Scholar, Smalls-Mantey is a member of the Honors College and Golden Key International Honor Society. This year, she helped establish Fellowship Under God's Influence, a student organization based on Seventh-day Adventist beliefs. Off campus, she is the deputy director of Pathfinder, a Christian scouting organization for children at her church.
Smalls-Mantey plans to pursue a M.D./Ph.D degree, specializing in immunology.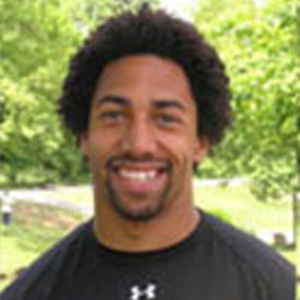 Michael Aaron, '07 Mechanical Engineering and Biological Sciences
Goldwater Scholar 2005
Hometown: Frederick, Maryland
Michael is a junior pursuing dual degrees in mechanical engineering and biological sciences with a minor in writing. Aaron recently went on his first international rugby tour. He accompanied the Massachusetts Institute of Technology (MIT) Rugby Team to Paris, France where they faced off against Institut National d'Agronomie de Paris Grignon and won 24-7. He met the team this past summer while conducting cellular mechanics research as part of the MIT Summer Research Program (MSRP) in biology. He has worked in labs at the National Institute of Standards and Technology and at Case Western Reserve University. A MARC, Meyerhoff and McNair Scholar, Aaron is the captain of UMBC's Rugby Team, an active member in Tau Beta Pi, the Engineering Honor Society, and a Learning Resource Center tutor.
"At the end of it all, I have an overwhelming sense of institutional pride and identity among my fellow students, faculty and staff. I truly believe in and have contributed in what way I can to UMBC, a university that is more than just a storehouse of knowledge or a community of scholars, but a boundless source of human potential."
---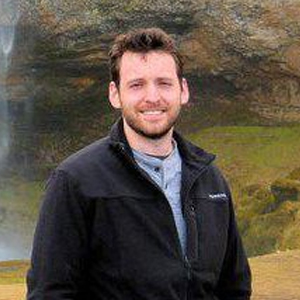 Andrew Kohlway, '06 Bioinformatics
Goldwater Scholar 2005
Hometown: Sykesville, Maryland
Andrew is a senior MARC and Meyerhoff Scholar who has had outstanding summer lab experiences at a consortium of research universities in Pittsburgh and at Yale University. He is majoring in bioinformatics with a minor in mathematics. After graduating from UMBC in May, he will enter Yale University's Ph.D. program in molecular biophysics and biochemistry. He recently received an honorable mention from the National Science Foundation Graduate Research Fellowship competition. He will present some of the research that he has conducted in the lab of Daniele Fabris, assistant professor of chemistry and biochemistry, at the UMBC Undergraduate Research and Creative Achievement Day on April 26.
"UMBC has provided me with so many opportunities throughout my four years here. I am thankful that I have been supported the entire time by the UMBC faculty, administration and, of course, my family."
---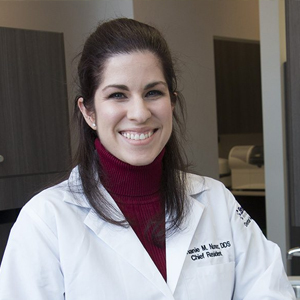 Stephanie Nunez, '07 Biochemistry and Molecular Biology
Goldwater Scholar 2005
Hometown: Bowie, Maryland
Stephanie Núñez exemplified excellence while at UMBC, as evidenced by her scholarship support from the Meyerhoff, Goldwater, MARC U*STAR, Howard Hughes Medical Institute and Maryland Distinguished Scholar programs. She also served as the community service officer for the Golden Key International Honor Society and won the 2006 UMBC Alumni Association Award for outstanding student in biochemistry. Núñez developed an interest in the science of teeth after a childhood softball accident led to several dental surgeries. She gained hands-on laboratory experience through UMBC research partnerships with the University of Maryland, Baltimore Dental School and Stanford University. While at Stanford she worked with Habla la Noche ("The Night Speaks"), a student organization dedicated to teaching English to Stanford's hourly staff workers. Núñez played bass clarinet in the UMBC Chamber Players and hopes to join the Life Sciences Orchestra at the University of Michigan, where she will begin her doctoral studies and pursue a career teaching professional dentistry.
*Update: Dr. Stephanie Nunez earned her DDS and PhD from the University of Michigan, School of Dentistry in 2014. Dr. Nunez practiced for a year in Kalamazoo, Michigan before starting a two-year General Practice Residency at Einstein Medical Center in Philadelphia, Pennsylvania. At Einstein, she served as chief resident, a position hand-selected by faculty.
"One of UMBC's greatest strengths is the diverse background of its faculty and student body. Not only is it something that enriches both the academic and social experiences of everyone that becomes part of UMBC, but it also strengthens us as an academic community."
4/18/2023