This could be you!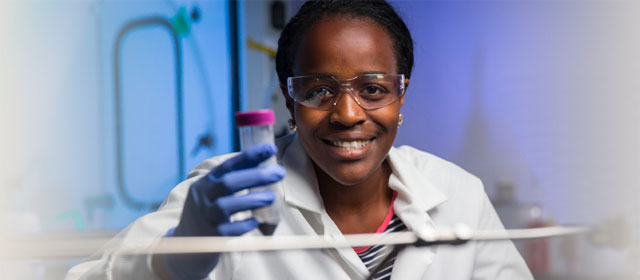 Naomi Mburu '18, chemical engineering, is the first student in UMBC history to receive the prestigious Rhodes Scholarship. She was one of 32 students from across the United States to receive this prestigious honor in 2018.
Christopher Slaughter
UMBC's newest Gates Cambridge Scholar
Christopher Slaughter '23, M31 computer engineering, has won a Gates Cambridge Scholarship to pursue graduate work at the University of Cambridge in the United Kingdom next fall. Slaughter is the fifth student from UMBC to be recognized with the prestigious award, established by the University of Cambridge in 2000 with a donation from the Bill and Melinda Gates Foundation.
Slaughter will pursue a Ph.D. in electrical engineering at the University of Cambridge, which is the world's third oldest surviving university, founded in 1209. His career goals are to develop novel biomedical technologies that meet the healthcare needs of under-resourced communities. Read more here.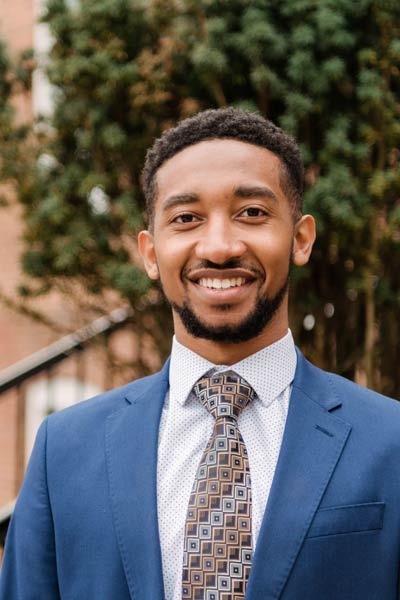 Sam Patterson
UMBC's 2nd Rhodes Scholar
Sam Patterson '21, M29, is now the second student in UMBC history to receive a Rhodes Scholarship. Only 32 American students are awarded the prestigious scholarship each year, which supports graduate study at the University of Oxford in England.
Patterson will pursue an M.Sc. in the Nature, Society, and Environmental Governance program at Oxford focusing on the economics of transportation. This research area will take full advantage of his three undergraduate degrees from UMBC. This spring, Patterson will earn bachelor of science degrees in mathematics and statistics and a bachelor of arts in economics. Read more here.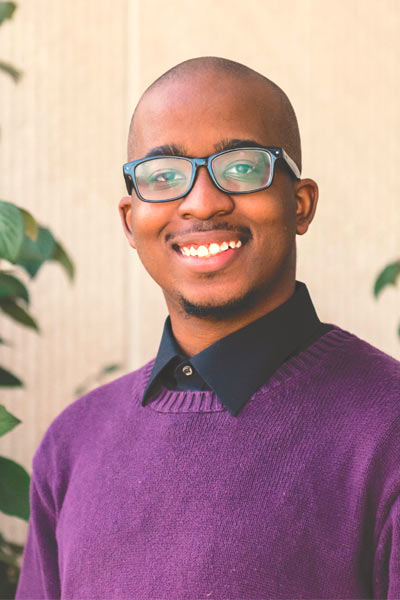 Joshua Slaughter
Marshall Scholar
Joshua became the second student in UMBC history and the first in 29 years to be selected for the prestigious award. Slaughter is one 41 American students selected this year from institutions across the country for the Marshall Scholarship, which supports graduate study at institutions in the United Kingdom. He was also a finalist for the Rhodes Scholarship.
Slaughter, who is earning his degree in computer engineering, will pursue his Ph.D. in informatics at the University of Edinburgh. His goal is to advance equity in the developing field of personalized medicine.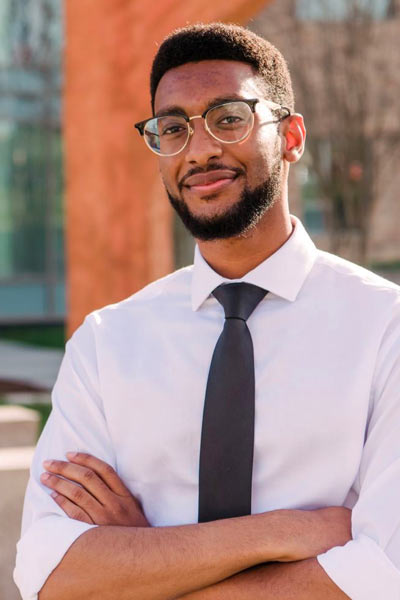 If you have general questions about any of these opportunities, please email Dr. Householder at aprilh@umbc.edu.
Please be aware that all scholarships listed below require university sponsorship, and have an on-campus application/interview process, and an internal deadline that is earlier than the final submission deadline.
---
The Rhodes Scholarship is the oldest graduate fellowship in the world, and probably the most famous. But the prestigious and highly competitive scholarship, whose winners have gone on to become presidents, U.S. senators and Nobel Prize winners, is wrestling with its own history as it tries to attract a more diverse pool of applicants.
---
International Scholarships
Frederick Douglass Global Fellowship

Be our first scholar!
The Frederick Douglass Global Fellowship is a 4-week, 6-credit summer study abroad program designed to enhance leadership and intercultural skills. Open to all majors who are rising Sophomores or Juniors with a minimum 3.0 GPA, who are Pell Grant eligible. Locations change annually but include: Berlin, Cape Town (2018), London, Madrid, Paris, and Rome.

Frederick Douglass Global Fellowship
Application Deadline: October (Check National site).
Fulbright U.S. Student Program

The Fulbright Program, the flagship international educational exchange program sponsored by the U.S. government, is designed to increase mutual understanding between the people of the United States and the people of other countries. The Fulbright U.S. Student Program operates in more than 140 countries worldwide. It awards grants in nearly all fields and disciplines, including the humanities, social sciences, STEM fields, and creative and performing arts. UMBC strongly encourages applications for both research and English Teaching Assistant grants from its academically strongest graduating seniors and graduate students.

fulbright.umbc.edu
Contact: Dr. Brian Souders at souders@umbc.edu
Gates-Cambridge Scholarship >

Meet our Gates-Cambridge scholars
Scholarships are awarded to outstanding applicants from countries outside the UK to pursue a full-time postgraduate degree in any subject available at the University of Cambridge. The selection criteria are: outstanding intellectual ability, leadership potential, a commitment to improving the lives of others, a good fit between the applicant's qualifications and aspirations and the postgraduate programme at Cambridge for which they are applying.

gatescambridge.org
Application deadline: mid-October (Check National site).
Marshall Scholarship

Meet our scholars! Ready to be the next?
Marshall Scholarships finance young Americans of high ability to study for a graduate degree in the United Kingdom. Up to forty Scholars are selected each year to study at graduate level at an UK institution in any field of study. As future leaders, with a lasting understanding of British society, Marshall Scholars strengthen the enduring relationship between the British and American peoples, their governments and their institutions. Marshall Scholars are talented, independent and wide-ranging, and their time as Scholars enhances their intellectual and personal growth. Their direct engagement with Britain through its best academic programmes contributes to their ultimate personal success.

marshallscholarship.org
Application deadline: early October (Check National site).
** Internal Deadline: Mid-August (Check National site)
Students applying for this scholarship must submit their materials to Dr. Householder by this date in order to be considered for institutional nomination.
Rhodes Scholarship

The Rhodes Scholarships are the oldest and most celebrated international fellowship awards in the world. Each year 32 young students from the United States are selected as Rhodes Scholars, through a decentralized process representing the 50 states, the District of Columbia, and the U.S. territories. Applicants from more than 320 American colleges and universities have been selected as Rhodes Scholars. Rhodes Scholars are chosen not only for their outstanding scholarly achievements, but for their character, commitment to others and to the common good, and for their potential for leadership in whatever domains their careers may lead. A minimum 3.7 GPA is required to apply.

rhodesscholar.org
Application cycle: July through October. (Check National website)
** Internal Deadline: Mid-August
Students applying for this scholarship must submit their materials to Dr. Householder by this date in order to be considered for institutional nomination.
National Scholarships
Barry Goldwater Scholarship

Meet UMBC's Goldwater Scholars

The Goldwater Scholarship is granted to college students who intend to pursue careers in the following fields: science, mathematics, and engineering. The applicants are evaluated based upon their field of study, career objectives, and the potential and dedication for the applicant to make a significant contribution to their field. Awards up to 300 – $7,500 scholarships to college sophomores and juniors who are pursuing research careers in mathematics, natural sciences, or engineering.

goldwaterscholarship.gov
Applications due: Late January (Check National site).
Knight-Hennessy Scholars

Meet our first Knight-Hennessy Scholar!

Knight-Hennessy Scholars develops a community of future global leaders to address complex challenges through collaboration and innovation. Every year, up to 100 high-achieving students from around the world will receive full funding to pursue any graduate degree at Stanford, including the DMA, JD, MA, MBA, MD, MFA, MS, and PhD programs, as well as joint- and dual-degrees. Knight-Hennessy Scholars is the largest fully endowed scholars program in the world. We seek rebellious minds and independent spirits. We welcome people who are sharp thinkers, but even more so curious, who will bring good ideas and maverick perspectives to old challenges.

Application Deadline: October (Check National site).
Harry S. Truman Scholarship

The Harry S. Truman Scholarship Foundation awards 55-65 scholarships of up to $30,000 to exceptional college juniors who want to work in government, education, the nonprofit sector, or the public interest/advocacy sector. Truman Scholars are agents for change and have an extensive background in community service; a commitment to a career in government or the nonprofit and advocacy sectors; communication skills and a high probability of becoming a "change agent"; and a strong academic record with likely acceptance to the graduate school of the candidate's choice.

truman.gov
Application Deadline: February (Check National site).
Fellowships
Prestigious Scholarships
Dr. April Householder
Director of Undergraduate Research and Prestigious Scholarships
aprilh@umbc.edu
(410) 455-5754
2/15/2023