Visual Arts
"Brush and Bone"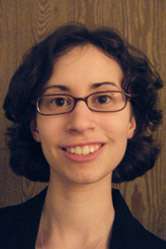 This film explores the inner workings of the body through the medium of 3D animation. Typically, the only way the inside of the living body can be observed non-invasively is through the use of specialized medical equipment. While much can be learned from anatomical drawings and the like, a flat, still image does not tell the whole story. An animation, however, can show so much more. In Brush and Bone, pen lines become bone, and brush strokes become muscle and tendon, revealing the human body as a literal work of art. As the model comes together, its components will move in unison, muscles contracting, tendons pulling, and bones rotating in their sockets. I am building this animation in Autodesk Maya, a 3D modeling and animation program. In creating Brush and Bone, I have been extensively examining anatomical references so I can build my models as accurately as possible. My ultimate goal is to help people look at their bodies in a whole new light, and to inspire appreciation for the beautiful complexity that we too often take for granted.
Who did you work with on this project?
I worked on it myself.
Was this your first independent research project?
Yes.
Do you get course credit for this work? How much time do you put into it?
Yes. Each art major is required to take a class in which they create their senior capstone project. This project has occupied most of my free time this semester.
What academic background did you have before you started?
I had been studying computer animation for about five years.
How did you learn what you needed to know to be successful in this project?
I studied anatomical books, drawings, and videos so that I could make my project as accurate as possible.
What was the hardest part about your research?
Making all parts of the model move together accurately.
Is this the first time you have applied to present at URCAD? How did you find out about applying to present your work? Are you excited?
This is my first time. The professor who teaches my senior projects class mentioned that, to fulfill one of our assignments, we could submit our projects to URCAD. I am very excited to have my work seen by people outside my department.
How does this research experience relate to your work in other classes?
Besides my animation classes, I have used knowledge from the computer science classes I have taken to write the code that controls the arm model in my project.
What are your career goals?
I would like to work as a computer animator for practical applications, such as the federal government, serious gaming, or medical visualization.
3/11/2014