Biochemistry and Molecular Biology
"Synthesis of CdSe and Au Nanoparticles Assemblies to Study the Optical Properties of New Hybrid Nanomaterials"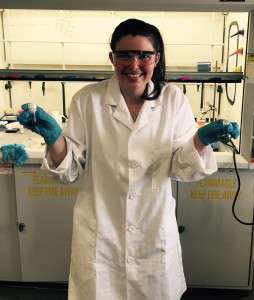 It is predicted that when the coupling of cadmium selenide quantum dots and gold nanorods occurs the properties of the resulting system will be qualitatively different from the properties of the isolated particles. These properties can further be controlled by exciting the system with a short laser pulse. This project is important because it will show that the nanoparticles assemblies can serve as a key enabling technology for future optical information processing at high speeds and low powers, including quantum-mechanical information processing at the single-photon level (i.e., quantum computers). This also has potential applications in providing a more efficient conversion of sunlight into electricity and in enabling highly efficient displays and ultra-small lasers. The goal of this project will be to couple cadmium selenide quantum dots to gold nanorods in order to study the optical properties of this new type of hybrid nanomaterial.
Who is your mentor for your research, scholarship, or artistic project? How did you arrange to work with this person?
Dr. Daniel. I arranged to work with her through knowing a graduate student in her lab already and going to her to speak about her research.
How did you know this was the project you wanted to do?
I really enjoy working in the area of nano chemistry but I wanted to work with something I had not yet done before. Quantum dots linked to gold nanorods are something that nobody has done before. I was familiar with the gold nanoparticles but this was something new and exciting to discover.
Is this your first independent research/scholarship/artistic project?
Last semester, I was given the task to make silver nanoparticles in the way our lab made them. It ended up taking me months before I figured it all out.
Do you get course credit for this work?
Yes
How much time do you put into it?
4-6 hours a week for three months
How did you hear about the Undergraduate Research Award (URA) program?
My mentor told me about it.
What academic background did you have before you applied for the URA?
I have always done well in school and am currently in my junior year.
Was the application difficult to do?
No
How much did your mentor help you with the application?
A little bit. Mostly she edited it.
What has been the hardest part about your research?
Creating a linker between my quantum dots and gold nanorods.
What was the most unexpected thing?
How much I have enjoyed my undergraduate research experience thus far.
How does your research relate to your work in other classes?
My research is not very related to any classes that I have taken. It is related to materials science.
What else are you involved in on campus?
I am also a supplemental instructor for various subjects on campus. (physics 121, biology 142, biology 302)
What is your advice to other students about getting involved in research?
Research is something you need to take advantage of. We are lucky enough to come to an institution in which there are so many opportunities to get involved.
What are your career goals?
I plan on pursuing my PhD following graduation next spring. I then plan to go into the industry.
8/27/2015