Interdisciplinary Studies in Arts Management
Arts Center Stage: Spotlighting America's Nonprofits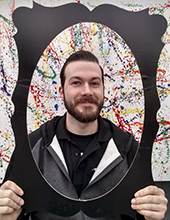 Nonprofit Arts Centers are a popular type of organization that provides for its surrounding community through utilizing multidisciplinary art. They can provide art education, entertainment, or other community events that better the lives of others, and facilitate growth of individuals and the neighborhood. As each organization is unique in location as well as what it offers, they face different challenges and are able to boast a variety of successes. The goal of my research was to gather information on a group of these nonprofit arts centers and present it to all of the participating organizations and beyond. The book I created was made to offer insight into these arts centers so that working arts administrators can learn from the experience of others, or find inspiration for future programming.
How did you find your research opportunity?
It was my senior capstone project for the Interdisciplinary Studies (INDS) department. The idea for the project came from a former INDS student's project that took on a similar concept focused on her family's immigration history.
Do you get course credit for this work?
I got credit for the research gathering trip, and for the time compiling the research into my final product. My trip lasted a month, but it wasn't entirely dedicated to this project. The supplementary research and creation of the final product took countless hours across four months.
How did you learn what you needed to know to be successful in this project?
Much of it came from the guidance of my mentors, and I based the final product on a former INDS student's capstone project. Then throughout the process I found that the arts administrators, themselves, had input as to what they would like to see in the final research.
What was the hardest part about your research?
The most difficult part was maintaining correspondence with seven busy arts administrators. As willing as each may have been to help with my research, they didn't have much spare time to contribute.
How does this research experience relate to your work in other classes?
Dr. Lisa Cella's course Career Development for Musicians played a large role in my learning about nonprofit organization operations. Her personal experience gave me a good perspective with which I could initially view my research. The opportunity my research offered me to view arts administrators working also gave me a chance to see managerial theory and the entrepreneurial mindset at work, two of the three disciplines in my INDS degree plan.
What is your advice to other students about getting involved in research?
Research is never a burden if you can find yourself working on a topic you truly care about. And start early.
What are your career goals?
My goal is to run a nonprofit arts center in the area. I want to enact positive change in my community and foster networking for other nonprofit organizations.
Daniel's Capstone Presentation
12/22/15