Visual Arts
"The Influence of the Gwangju Art Biennale on the Cultural Life of the City"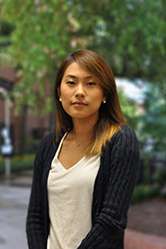 The Gwangju Biennale, held every two years in the city of Gwangju, South Korea, is a major exhibition of contemporary art in Asia. The Gwangju Biennale was founded in September 1995 to commemorate those who died for the Gwangju Democratization Movement of 1980s and to transform this social value into cultural arts. The research will study how the Gwangju Biennale has influenced society and space in the city of Gwangju. My research methods will include travel to Korea to interview organizers of the Gwangju Biennale and to collect. Photo documentation from newspaper archives and from private photo collections of family and friends who live in Gwangju. I will also review literature on the subject in English and Korean. I hope this research will help me to communicate the importance of contemporary art to my peers. I am eager to discover how much the South Korean nation has changed culturally over the past twenty years; specifically how the city of Gwangju and contemporary art have been maintaining a mutually beneficial relationship.
Who did you work with on this project?
I work with my advisor, Dr. Preminda Jacob.
How did you know this was the project you wanted to do?
I was always interested in working with Korean artists and their backgrounds since I am Korean and study in Art history.
Was the application difficult to do?
The application was not hard to do because I knew what I wanted to do.
Is this your first independent research project?
Yes.
Do you get course credit for this work?
No.
How did you hear about the Undergraduate Research Award (URA) program?
My advisor/mentor suggested it.
What academic background did you have before you applied for the URA?
I finished my first semester of junior year and was starting my second semester of junior year at UMBC. Most of the art history courses that I have taken are relevant to my project.
How did your mentor help you with your research?
My mentor played a significant role in clarifying my methodology and my project's direction. Also, I have to interview people for my research and I am not really good at it. So my mentor has guided me how to interview and interact with people.
What has been the hardest part about your research?
The hardest part about my research was choosing the right methodology. But I have a great mentor who helped me with this.
What is your advice to other students about getting involved in research?
Do what you love, so that you can connect yourself to the field you want to study. Be confident in yourself and don't be afraid to pursue it.
What are your career goals?
I want to bring Korean artists more opportunities to grow worldwide and to become more active internationally.
9/16/2015