Major: Chemical Engineering
"Process Development of Polydimethylsiloxane (PDMS) Films for Microfluidic Device Fabrication"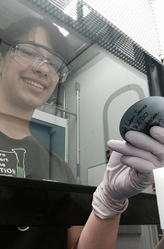 The CNST NanoFab has recently established a soft lithography laboratory dedicated to microfluidic device fabrication and soft polymer based research. Polydimethylsiloxane (PDMS) is a two part polymer that is readily available in soft lithography lab. A process database related to PDMS is in demand for the lab. This work is to support this purpose and has been focused on (1) understanding the effect of PDMS-to-hexane ration and spin speed on PDMS film thickness and (2) effect of plasma intensity, plasma exposure time, and working pressure on the bond strength between PDMS and glass. For the study, five different PDMS-to-hexane ratios and six different spin speeds were selected. PDMS film thickness with various spin speeds and hexane dilutions were measured using the Dektak XT profilometer. Results show that increasing spin speeds and decreasing PDMS-to-hexane dilution ratios produce thinner PDMS films. For the second study, three plasma power settings, three working pressures along with six plasma exposure times were selected. The strongest bonds occured in samples exposed to high plasma intensities for long periods of time and at low pressures. The data collected from both studies are summerized in tables and plots, and will be added to the process database for the soft lithography lab.
How did you find out that you could do research in your field in the summer?
I found this out by looking at myUMBC and seeing that I could apply to an internship at NIST for the summer. I applied and was accepted to the internship.
How did you know that research at NIST was what you wanted to do?
Well, I guess the simple answer would be that this was the only internship I applied to that accepted me.
The longer answer is that it was close by (NIST is in Montgomery County, the county in which I live), it seemed like an awesome opportunity for personal development and networking, I'd be able to interact with students from all over the country, and they provided housing near the campus for free. What more could I ask for from an internship?
Did you apply to other places?
I applied to NIST, at least ten projects through NASA's One Stop Shopping Initiative, an REU at the University of Illinois at Urbana-Champaign, and the Naval Research Enterprise Internship Program. I'm pretty sure that most, if not all, of these programs did not accept me this year simply because I was a freshman at the time of application and therefore lacked the knowledge/experience that sophomore and junior classes would have given me.
Was the NIST application difficult to do? Did you have help with this?
The application was pretty easy, actually. I got a little help with writing the personal statement from friends and from Janet McGlynn from the Office of Undergraduate Education.
What was your summer research project?
My internship involved designing and running my own experiments to add information to the database of the Soft Lithography Lab at NIST. I worked with a polymer called PDMS, and I ran various experiments and collected data on how to thin it, how to bond it to silicon-based materials, how to etch it with plasma, and how to make microfluidic devices with it. I compiled my data into a final oral presentation as well as two written reports.
My day-to-day tasks involved going into my lab and into the cleanroom to run experiments and take measurements. I had to record everything I did, and then I put all my information into my final reports/PowerPoint presentation. I also made it a point to discuss my progress with my mentors almost every day.
Who is your mentor for your research, scholarship, or artistic project? How did you arrange to work with this person?
I worked with two people actually: Dr. Jessie Zhang, Assistant NanoFab Manager, NanoFab Operations Group, Center for Nanoscale Science and Technology, and Robert Newby, Process Engineer, NanoFab Operations Group, Center for Nanoscale Science and Technology. My mentors were assigned to me by the program. Dr. Zhang was available throughout the day for me to come into her office and ask questions or ask for advice on the project. Mr. Newby was the night-shift engineer for the cleanroom (this made it difficult to coordinate schedules) so I could only talk to him after he came in at 3:30 pm. I did e-ail him if I had immediate issues with the labs/lab work, however, and he got back to me quickly.
How much time did you put into this work?
This was a full-time position; it was 8 hours a day, 40 hours a week.
Were you paid? Where did you live?
I was paid $5,500 for the summer, and I lived in a Quality Suites hotel in Rockville (the provided NIST housing). This made it really easy to interact with the other SURF students, and I ended up having most of my evenings and weekends booked with short trips, grabbing dinner, and just friendly interactions on a daily basis. The weekend before the end-of-summer presentations, I actually went to New York City with some of the SURFers and had a great time roaming around.
What academic background did you have before you started?
I had just finished my freshman year, so I didn't really have much experience at all in my chemical engineering major (the first ChemE class, ENCH 215, is typically not taken until the first semester of sophomore year). This was my first ever STEM research experience, since all of my other major extracurricular experiences were related to performing arts.
How did you learn what you needed to know for this project?
My mentors gave me lots of articles and reports about microfluidics and experiments with PDMS (the compound I was working with) to read throughout the summer. I also learned a lot through experience in the lab and cleanroom.
What was the hardest part about your research?
Learning about technical writing was the biggest challenge for me. We had to write an abstract for the presentation at the end of the summer, and when everyone else in my office was able to write theirs a couple of days before it was due and get them edited a bit by their mentors, I started writing a week and a half before it was due and required four drafts and several revisions by my mentors before I could finally submit it.
What was the most unexpected thing?
The most unexpected thing was that the workplace atmosphere was lighthearted, relaxed, and even fun at times. It wasn't the strict and serious business environment that I envisioned it to be.
I also didn't really expect it to be so independent. I was able to simply walk into the lab whenever I wanted and conduct my experiments without having my mentors in the room with me. I actually felt like one of the researchers at times because of this.
What is your advice to other students about getting involved in research?
I'd say that they should look around all over the internet (especially myUMBC, that's where I found out about my internship) for opportunities and try to apply to as many as possible (especially important for freshmen). Even if you don't get an opportunity, don't let it take you down. Most freshmen don't get internships; if this happens to you, just use this time to take summer classes and get ahead in your major. You'll be glad you did.
What are your career goals?
I want to get a master's degree in (probably) either chemical engineering or biochemical engineering. Afterwards, I was thinking about going into industry work both synthesizing and mass manufacturing medications.
8/25/2021