Interdisciplinary Studies –
Technology Entrepreneurship and Organization Management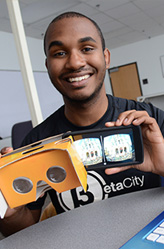 Massive Open Online Courses (MOOCs) have the potential to provide education to billions across the globe at little to no cost to learners. However, most individuals who start these free online courses do not watch the first video or complete the course at all. Across all major MOOC platforms, courses on average experience a 5 to 10 percent completion rate when student context is not taken into account. The purpose of my study is to compare the approach to MOOCs by American and Switzerland institutions and what practices are being used to address these issues and how the quality of distance education impacts the completion rates of online courses. The goal is to qualify the reality of a blended learning environment where lecturing is replaced with MOOCs and the classroom is transformed into a digital laboratory where students use technology such as virtual reality, 3D printing, etc. to apply their learning.
What research experiences have you had?
International Field Research Program with HAPP403.

I conducted preliminary exploratory research in Switzerland about the impact of the Massive Open Online Course (MOOC) on the future of learning.
How did you find the research opportunity?
The opportunity was presented to me by Dr. Kenneth Baron in his role as a mentor to me in the Interdisciplinary Studies program.
Who is your mentor for your research, scholarship, or artistic project? How did you arrange to work with this person?
Dr. Mary Stewart and Ms. Katie Birger were my mentors and instructors for this research experience. I arranged to work with them thanks to my Interdisciplinary Studies faculty mentor Kenneth Baron.
Do you get course credit for this work? Paid? How much time do you put into it?
I did get course credit for this work so I do not get paid. I have spent my entire spring semester for this project.
What academic background did you have before you started?
I was a Science and Technology Honors Student at Charles Herbert Flowers High School and conducted my senior year (high school) research practicum at NASA Goddard Space Flight Center on the Future Applications of Superconductors in Magnetic Levitation Transportation. I am now an undergraduate Interdisciplinary Studies student with concentrations in Education Technology, Entrepreneurship, and management.
How did you learn what you needed to know to be successful in this project?
The HAPP403 course provided foundational knowledge and research skills to properly collect and present data. It was a requirement for the course to conduct a rather detailed literature search in order to write a formal paper about my research.
What was the hardest part about your research?
My original interview was suddenly cancelled at the last minute while I was in Switzerland and I had to find someone new to interview in less than 24 hours.
What was the most unexpected thing?
I suddenly got a "yes" from the Director for the Center of Digital Education at Swiss Federal Institute of Technology in Lausanne, Switzerland. He gave me an appointment and we met the day before the end of the program to chat for an hour.
How does this research experience relate to your work in other classes?
I am taking several education classes that directly relate to the principles and psychology of learning and we often discuss the role of technology.
What is your advice to other students about getting involved in research?
Have multiple contingencies in place because anything can happen.
What are your career goals?
I plan to continue working on my current venture EduPal and try my best to have an impact on the future of learning.
What else are you involved in on campus?
I am the Vice-President for the Interdisciplinary Studies Council of Majors.
9/8/2021