"Real Negus: Exploring Perceptions of Blackness"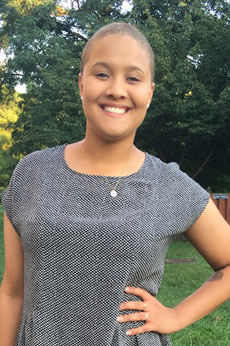 The word "Negus" means different things to different people, similar to the meaning of the term "Blackness." There is no concrete definition of "Blackness," but people still attempt to limit its meaning. My film asks the question, "What does it mean to be Black in America?" I conducted my research by speaking to familiar people, as well as subjects I have no affiliation with (from the UMBC and Baltimore Inner Harbor area), before and after the 2015 Baltimore uprising. Subjects were chosen randomly from a variety of ethnic backgrounds and races. I observed that I was most able to obtain responses from minority subjects, and all of the answers were individual and unique. The interviews were recorded, edited and compiled into one black-and-white video, with a soundtrack included. The purpose of this research is to shed light on the reality of the Black American experience. Moreover, the ultimate goal was to gather individual feelings, to prove that stereotypes should not be used, and that everyone has a different understanding of what it means to be Black.
What research experiences have you had?
The most recent research experience I have had was one focusing on the idea of what it means to be Black in America.
How did you find the research opportunity?
It was for an end-of-the-semester project in my AFST 101 class with Dr. Maleda Belilgne. She gave us creative freedom in what we chose to focus on and I choose to focus on finding a response to the specific question of what it means to be Black in America.
Who is your mentor for your research, scholarship, or artistic project? How did you arrange to work with this person?
My mentor was Dr. Maleda Belilgne of the Africana Studies department. I had complete liberty over the project and I just ran an abstract by her before starting to see if this type of research would be acceptable for the course.
Was this your first independent research project?
No, at another school I did research on different synthetic materials and rubber, and their impact on the environment, but this is the first one I have conducted since attending UMBC.
Do you get course credit for this work? How much time do you put into it?
It was a graded assignment for a course I was taking. Once the project was introduced in the beginning of the semester I knew that I wanted to do a media presentation but I really had to think of what I would be focusing on. The actual filming and editing took about a month to a month and a half to do.
What academic background did you have before you started?
All of my academic background would be that of a typical GES major. I have taken many biology courses, environmental sciences, and genetics courses. I have also taken courses in African American history and have a strong interest in both the environment and African American culture.
How did you learn what you needed to know to be successful in this project?
I knew that I had to make the video interesting enough to make people want to watch it. The topic of race relations is always something big and controversial. Also it just so happened that when I started filming for this project the Baltimore Riots surrounding the Black Lives Matters movement were occurring. I knew that I needed to ask the questions and record the responses of real people. Most of the credit for the success of the video goes to the people that gave me their responses during such an emotionally charged time. The black and white aspect of the film and the transitions I used were inspired by YouTube videos and artistic videos I have seen over time.
What was the hardest part about your research?
The hardest part about the research is working with the responses that I was given. You can't change or direct them, so you just have to accept what is said and include it. Also, just getting the courage to go out and ask people questions in that type of climate is a nervous situation. I didn't want to offend people.
What was the most unexpected thing?
The responses I received and the willingness of most people to respond.
Is this the first time you have applied to present at URCAD? How did you find out about applying to present your work?
This was my first time, yes, I found out through Dr. Belilgne. She suggested that this might be something that I would be interested in doing while I was taking another one of her courses. I was very excited once I was approved to present. I didn't think my project was interesting enough, so I was surprised to be included.
How does this research experience relate to your work in other classes?
Everything that I have researched and studied in order to be successful in my Africana Studies courses came into play with the video. The topics that we covered in class often included real life situations; I was glad to be able to represent those situations in my media presentation. Making the video made school work into work about life; it made it fun.
What is your advice to other students about getting involved in research?
I would advise students to seek a research topic that they are actually interested in and to use as many resources as possible. Your mentor is a valuable asset when it comes to help, so don't limit yourself when asking questions.
What are your career goals?
Long term, ideally I'll be doing research regarding human/environment interaction and how they impact each other. Specifically, how African American's are impacted by the environment and vice versa. Short term, I hope to be joining the Peace Corps in the not too distant future.
What are you doing next for research?
I plan to continue my research that I have already conducted and possibly creating a series. Whether I plan to stick to just this one question or area are ideas to consider.
What else are you involved in on campus?
I am also a member of Alpha Kappa Alpha Sorority Inc., Lambda Phi chapter.
9/9/2021