"Preventing gender violence and discrimination in Latin America"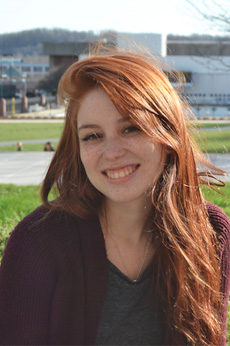 What is your current research?
I am investigating Fair Trade through a feminist economics lens to see whether it truly can aid in preventing gender violence and discrimination in Latin America. Last winter, I traveled to visit my family in Honduras. While there, I visited various coffee plantations and "fincas" and interviewed about 25 women. Now, I'm working on transcribing, translating, and analyzing all my qualitative data.
What previous research experiences have you had?
My sophomore year, I was lucky enough to have my research from Professor Felipe Filomeno's Global 301 class published in UMBC's Global Baltimore Report. This article, "The Growth and Benefits of Fair Trade: World Wide and Baltimore City," acted as a catalyst to my current research by inspiring me to apply global, cosmopolitan theories to local problems and occurrences. In this case, investigating the rise of Fair Trade's popularity in Baltimore and its accessibility to local communities. Later, I collaborated with Melina Latona to present our research on local agriculture and fair trade in tandem for our URCAD 2015 presentation, "Grassroots Alternatives to the Global Corporate Food Regime in Baltimore."
Who is your mentor for your research project?
How did you arrange to work with this person? Dr. Felipe Filomeno, Global Studies. He was my professor for my first research experience in GLBL 301.
Was this your first independent research project?
My first was "The Growth and Benefits of Fair Trade: World Wide and Baltimore City," I wanted to use Adam Smith's cosmopolitan and moral theories to attempt to explain the rapid growth of Fair Trade in the US, globally, and in Baltimore. I was also really concerned with the accessibility of Fair Trade to local communities, my case study Red Emma's has been doing an amazing job at opening themselves to the entire community, but it doesn't look that way across the board.
What is the hardest part about your research?
I definitely underestimated the amount of time it would take me to transcribe and translate the 5-7 hours of voice recordings I took.
What was the most unexpected thing?
I was able to interview the president and one of the founders of an all woman Fair Trade Coffee Cooperative (COMUCAP), just through being at the right places at the right time. Her cooperative does amazing activist work in Honduras, in addition to the coffee they produce. The interview is really framing my analysis.
What is your advice to other students about getting involved in research?
I think if you have a question you're passionate about you should see if you could research it. A lot of people are intimidated by research, especially since Social Sciences require so much reading and writing. But universities are made for the pursuit of knowledge, and by contributing research; you're really playing a part in driving our global knowledge forward.
What else are you involved in on campus?
I'm the director and founder of the Reach Initiative, a mentorship program that assists Baltimore high school women who have an interest in the STEM fields. We have a strong focus on gender empowerment and leadership and all the scholars finish the program with research experience in STEM and/or Economics. I'm also the Director of SGA's Service and Community Outreach and the Vice-President of UMBC's all-female acapella group, the Stilettos.
9/25/2018