American Studies and Political Science, minor in History
"It's Just A Jump To The Right: How The Tea Party Has Affected Conservative Discourse."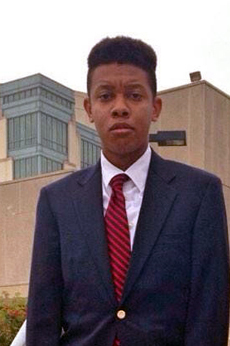 In this study, a cultural and linguistic approach was used to analyze the effect that speeches by members of the right-wing Tea Party Caucus have had on conservative political discourse. The rhetoric of these politicians after their ascendance in the 2010 congressional elections was compared to the rhetoric used by John McCain, the Republican nominee in 2008, and Donald Trump, the Republican nominee in 2016, to understand their effect on conservative discourse. This shift in discourse was studied using speech analysis to code for instances of negative discourse and establish a comparison between the election years while also noting rhetorical shifts among mainstream conservative politicians.
How did you find out about McNair? When did you join?
I found out about McNair from Chris Harried, a McNair scholar from an earlier cohort and joined during the 2015-2016 school year.
What have you gained from being a McNair scholar?
I have gained research skills that will be indispensable in my (potential) academic career.
What is your research project? Who is your mentor? How did you find your mentor for this project?
My research project involves rhetorical analysis of Republican speeches from 2008 through this year. My mentor is Dr. Kathy Bryan of the American Studies Department, who I met while taking the "American Culture in Global Perspective" class.
How did you know this was the project you wanted to do? How much time do you put into it?
I knew this project was exactly what I wanted to do once I started noticing the changes in Republican discourse last year. I spent about 30 minutes per speech analysis, over 15 different speeches. That's 7.5 hours, not including the time spent typing the proposal, meeting with my advisor, etc.
What academic background did you have before you started?
Prior to my research, I was more interested in policy than discourse analysis. Now, I want to eventually write books on different types of discourse within America, particularly of a political nature or relating to African-American issues.
How much did your mentor help you with your research?
My mentor was very helpful in steering me on track and finding good sources. Once we clicked on the methodology, doing the research was a breeze.
What has been the hardest part about your research?
The hardest part was finding speeches by Tea Partiers between 2008 and 2012. For some of them, finding transcripts was particularly difficult.
What was the most unexpected thing?
The most unexpected thing was the giant shift in discourse that was shown by a marked increase in instances of "harmful discourse".
How does your research relate to your work in other classes?
My research relates to the American Studies concept of "othering" people along with other demographic and political shifts that have occurred in our society in recent years.
What is your advice to other students about getting involved in research?
Find a topic that you love, a mentor you respect, and enjoy it as much as you can because your research is an accumulation of your time and energy like no other project you've ever done before.
What are your career goals?
My career goal is to become an academic and write op-ed pieces for important newspapers such as the New York Times, the New Yorker, and Vox.
Op-eds by Richard
10/9/2018