"Engineering of the FRB Domain of the Mechanistic Target of Rapamycin (mTOR) to Probe Transient Interactions"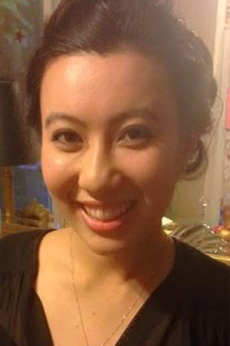 Co-researchers: Erin Kennedy, Miji Jeon, Chidera Ekeocha, Vanessa Nwaiwu and Minjoung Kyoung
This project aims to develop a system to evaluate a novel sensor employing innovative nanoreaction chamber technology, which will track transient biomolecular interactions in real time at a single molecule level. We are evaluating this sensor by studying the interactions between the FK506-binding protein (FKBP) and the FKBP12-rapamycin binding (FRB) domain in the presence of various small molecules such as rapamycin. FKBP bound rapamycin forms complexes with the FRB domain of mTOR, which is an essential regulator of cell growth and survival. We purchased the FKBP gene from Addgene, and inserted it into the pET28b plasmid with a histidine tag for future purification. We currently perform site directed mutagenesis on the FRB domain by deleting the endogenous cysteines and exchanging an endogenous serine at a desired location to a cysteine. This will allow us to probe the FKBP and FBR domain interactions by measuring fluorescence resonance energy transfer (FRET) efficiency. The mutated FRB and FKBP proteins will generate a FRET signal upon binding to small molecules. These tertiary interactions between a single FKBP, FRB domain, and a small molecule in our nano-reaction chamber will allow us to evaluate the sensor by analyzing the binding mechanisms and affinity.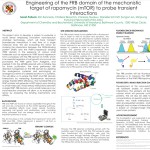 This investigation was supported in part by a MARC Undergraduate Student Training in Academic Research (U-STAR) National Research Service Award (NRSA) Institutional Research Training Grant (2 T34 GM008663) from the National Institutes of Health, National Institute for General Medical Sciences and UMBC startups and UMBC-Special Research/Assistantship Initiative Support (SRAIS) award.
What research experiences have you had?
I did research in the Chemistry Department under Dr. Kyoung for a year where I studied the single molecule interactions between the FKBP protein and FRB domain in the presence of rapamycin. I am currently an undergraduate researcher at the Johns Hopkins Bloomberg School of Public Health (JHSPH). Our team is studying implementation of the Medicaid health home program, a demonstration program enacted under the Affordable Care Act. The program is designed to better integrate mental health, physical health, and social services for people with serious mental illnesses like schizophrenia. It is being implemented in psychiatric rehabilitation programs across Maryland, and we are conducting interviews and surveys with leaders and staff in those centers.
We are also studying new models of public health research-policy translation – this is a three-part case study examining three research-translation projects in the areas of firearm policy in the US, public health policy to address opioid use and addiction, and harm reduction/drug control policy in Maryland. The project involves interviews and surveys with leaders – including researchers, foundation & community based organization leaders, and legislators and their staffs – regarding their perceptions of how to better translate research into policy around these controversial issues.
How did you find the research opportunity?
I emailed about thirty professors at JHSPH and met with the ones who got back to me.
Who is your mentor for your research project? How did you arrange to work with this person?
Beth McGinty, Department of Health Policy and Management
Was this your first independent research project?
No.
Do you get course credit for this work? Paid? How much time do you put into it?
No course credit or payment.
What academic background did you have before you started?
I had mostly taken Biology and Chemistry courses, but I also had taken HAPP 100 and two Honors Seminars with Dr. Jodi Kelber-Kaye that focused on social issues in Baltimore.
How did you learn what you needed to know to be successful in this project?
I read the grants and other background material for the two projects I am working on, and I asked a lot of questions to my mentor as well as the other researchers in our group. I also learned a lot at our group meetings and by doing the research.
How does this research experience relate to your work in other classes?
It is mostly related to the two Honors Seminars I took: Understanding HIV and AIDS and Race, Poverty, and Gender in Baltimore because this research deals with addressing health disparities and improving the overall health of people with serious mental illness, as well as promoting policies that address critical public health issues such as gun violence and opioid use.
What is your advice to other students about getting involved in research?
Identify your research area of interest and reach out to professors who are working in those areas.
What are your career goals?
I am very interested in health policy and health disparities, and would like to get my Master's in Public Health before going to either medical school or graduate school (for a PhD in health and public policy).
What are you doing next for research?
I will be continuing my research at JHSPH throughout the academic year.
What else are you involved in on campus?
I am involved with the SUCCESS program and am the president of Retrievers for Animal Welfare and Sustainability. I am also a campus organizer for The Humane League and help organize the annual Baltimore VegFest held on UMBC's campus.
9/26/2018