Biochemistry & Molecular Biology, minor in Mathematics & Sociology
"Development and Characterization of Human Recombinant Lactoferrin Nanofibers as Scaffolds for Regenerative Engineering"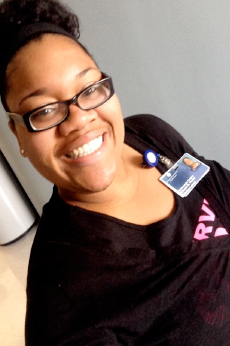 What research experiences have you had?
During my time at the Institute for Regenerative Engineering in Farmington, CT. I was at the University of Connecticut Health Center, School of Medicine in the Department of Orthopaedic Surgery. I was a participant in the Research Experience and Mentoring (REM) Program, under the instruction of Dr. Cato T. Laurencin, a recent award recipient of the National Medal of Technology and Innovation, the Nation's highest Honor for Technological Achievement. My project focused on the "Development and Characterization of Human Recombinant Lactoferrin Nanofibers as Scaffolds for Regenerative Engineering."
I studied the regeneration of Bone, Skin and cartilage growth in-vitro and in-vivo, with electrospun nanofibers, coated in various proteins that are found in both blood, like Albumin and in bone, like Lactoferrin. I used various solvents and concentrations of those solvents to create a stable nanofiber, that would induce increased Bone Cell viability and proliferation, while also activation biodegradation upon cell regeneration.
For tests with cartilage and bone, I used hydro gels that were surgically implanted in mice and rats. I was able to gain a confident skill set in Cell Culturing, Cell Suspension, Immunostaining, ALZ Staining, Live/Dead staining, and with using the Scanning Electron Microscope for various imaging. I have also gained skill in using Image J analysis, FTIR analysis, Electrospinning, Titer Blue Assay, and Cross-linking. I was trained to used the Confocal Microscope, with the Velocity Imaging Program, Lab Safety, Animal Safety, and Rat Implantation and Surgical Stitch Patterns.
How did you find the research opportunity?
I realized that I wanted to have a career in Medicinal Research and noticed that I had an interest in the Musculoskeletal System. I researched African American Cutting Edge Researchers and Dr. Laurencin's name popped up. I was so intrigued with his accomplishments and research projects. I just knew I needed to work under him and with him. A friend of mine pepped talked me into emailing him that night, (it was 2 a.m. in the morning!), because she knew I'd chicken out when the excitement ended. So, I emailed him and asked him to be m mentor. I also mentioned that I wanted to do research with him during the summer and quite honestly, to my amazement, Dr. Laurencin emailed me back in the next hour and set up a teleconference from there. The rest is history!
Who is your mentor for your research project? How did you arrange to work with this person?
Dr. Laurencin is my Mentor. He has so many titles. I emailed him directly and he responded with the speed of light. He set me up with a Graduate Assistant and assigned me to this project.
Do you get course credit for this work?
This was a paid summer internship at the University of Connecticut Health Center, in Farmington, CT.
What academic background did you have before you started?
I had a background in Chemical Engineering, at the time, but was a transfer coming in with Biological Accreditation.
How did you learn what you needed to know to be successful in this project?
This project has definitely taught me so much about myself and about the world of Science. My Graduate Assistant, Eric James, a recent PhD recipient, was amazing! He quickly realized that this was all new to me, but did not lighten up on his expectations. He made to teach me the reasoning and purpose behind certain research methods and topics, but also introduced me to the Medical Library, PubMed, and other various sources for additional help.
Eric also cared about my critical understanding for Medical Research and understanding Medical Research Papers. During that time, there was a Cell Biology and Tissue Engineering Journal Club. Eric made sure that we attended meetings weekly and I even got a chance to present a review of a research paper. I Participated in this journal club, that was designed to understand molecular aspects of cell biology and tissue engineering scientific literature. Presentations include "Language of Science" and "How to read and understand a science article".
What was the hardest part about your research?
The hardest part about my research would have been the numerous trials with error and repeat. Initially, it was hard dealing with that many negative results. It was quite discouraging, but Eric continued to reassure me in qualitative critic and support. I wouldn't trade those experiences for anything. It was then where I truly learned PERSERVERANCE!
What was the most unexpected thing?
I did not know how much of a family a research (SQUAD) could really be. Honestly, I thought research was suppose to be sleep, lab, work, and repeat, but it wasn't, at all! This lab was amazing! My cohort and I went out to eat, to the movies, the mall and even had dinner at my house.
Dr. Laurencin even invited us over his house and allowed us to get to know his family and him, in a more personal level. How cool was that?!
How does this research experience relate to your work in other classes?
My research correlates to so many classes that I am taking now. For instance, toxicology, with Dr. Fishbein. We talk a lot about the toxins that can affect blood and during my experience with REM, we spoke a lot about the importance of Blood, not just in circulation, but especially for your bone health. I can also relate this course to a previous course, Organic Chemistry II, which depicts mechanisms and various conformational changes due to their affects. This was definitely practiced in lab, as I had to continue testing various solvents, at various concentrations with Albumin and Lactoferrin.
What is your advice to other students about getting involved in research?
GET. IN. VOLVED. I can not express how much research really helped anchor me, as a student at UMBC. It's easy to get caught up in classes and GPA, but when you actually practice what you have always wanted to do, there is a rush that happens within you. There's a focus that comes to you. All of a sudden, things make sense. It's no longer school, because my parents say so, its school because I want to be my MENTOR!
What are your career goals?
I am planning on going into the Medical Field, also studying Regenerative Engineering with Stem Cell Treatment to Bio-Printed Organs and Tissues.
What else are you involved in on campus?
I am the President of United Christian Council, a member of the Retriever Leadership Institute, a Mathematics Grader/Tutor, STEM Education Advocate for students in Baltimore City, a Mentor and friend!
10/12/17