Major: Biological Sciences
Minors: Psychology and Chemistry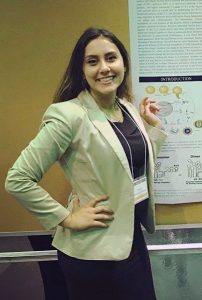 Title of your research project:
Transcription Start Site Heterogenity of the HIV-1 RNA genome
Describe your research:
My research project focused on the equilibrium between monomer and dimer conformations of HIV-1 RNA genome. Specifically, how a single mutation can shift the conformation and change the fate of the genome.
Who is your mentor(s) for your project?
Dr. Micheal Summers, Department of Chemistry and Biochemistry.
How did you find your mentor? Why did you choose them?
I found my mentor through one of my TAs and also by searching different professors in chemistry and biology departments on UMBC website. I emailed different professors and I was fortunate to receive an interview with Dr. Summers. I chose my mentor and Summers lab as I liked the friendly and supportive environment and I thought I could learn a lot in such a setting.
How did you become interested in this project?
I was interested in HIV research and the possible therapeutics results that could be gained from it.
"Conducting research has made me a critical thinker!"
What has been the hardest part about your research/what was the most unexpected thing about being a researcher?
The most difficult part for me has been the uncertainty of whether or not a test would correlate with our hypothesis and also repeating an experiment multiple times to ensure the results are correct. Trials and tribulations are certainly part of doing a research.
What has been the most rewarding part?
The most rewarding part for me is seeing that all of my hard work has paid off and I got the expected result. Also, I was able to train and mentor students this summer. This was very rewarding to me as I could see their progress and see how they analyze results and perform experiments through time.
How will you disseminate your research?
I have presented my research at SURF this summer. I am also planning to present this research at annual Undergraduate Research Symposium in the Chemical and Biological Sciences (CNMS symposium), and at the Annual Biomedical Research Conference for Minority Students (ABRCMS).
What is your advice to other students about getting involved in research?
Doing research is a great way to diversify your knowledge of a certain topic. I have certainly been able to become more of a critical thinker through doing research.
What are your career goals?
My career goals are to pursue either MD or MD-PhD.
12/7/21