Major: Interdisciplinary Studies, Visual Arts & Multicultural Therapy
Minor: Print Media
Abstract:Chinese International Transracial Adoptees Using Art-Based Narrative Interviewing to Practice Self Expression About Their Own Adoption Experience and Social Identity. This was my INDS capstone project.
Describe your project:
The purpose of this study was to see how Chinese international transracial adoptees use art-based research methods such as zine-making to explore and express their adoption experience. The goal of this capstone project was to capture the voices and experiences of Chinese adoptees.
How did using an interdisciplinary model benefit your work?
Throughout this research process I learned that my idea was a complex problem. From using an interdisciplinary research model I found ways to integrate, collaborate, and connect different disciplines to fill in the gaps of missing information. Having an interdisciplinary mindset helped me engage with different people, resources, and communities. The benefit from connecting with different people was it added an enriching experience to my research.
Who is your mentor(s) for your project?
Throughout the course of this project I had an amazing opportunity to work with Dr. Jayshree Jani from the Social Work department and Dr. Mario Sto. Domingo from the Psychology department. I connected with Dr. Jani through a previous and loving advisor Jill Wrigley. I connected with Dr. Sto. Domingo when we worked together through the Baltimore Collegetown Leadershape program. I choose to work with both of these researchers, because they were experts in their fields, they were interested in my research, and we connected on the idea of using interdisciplinary research methods to approach this work.
How did you become interested in this project?
Originally, I became interested in this study based on my personal experience as a Chinese adoptee. However, throughout the course of this project I realized part of my interest became about implementing my research to support other international adoptees and the community I feel passionate about.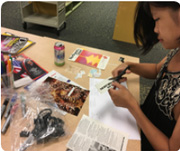 What has been the hardest part about your research/what was the most unexpected thing about being a researcher?
One of the hardest parts about my research was finding enough participants within a certain amount of time. My recommendation to fellow researchers who need participants is start recruitment early and aim to have more people just in case someone drops out or cannot attend. The most unexpected experience as a researcher was seeing how much changed throughout the entity of this project.
What has been the most rewarding part?
The most rewarding part about my research was seeing the amount of growth this project took and how many new pathways I can take from this experience. Yes, I feel great about accomplishing my study, but I feel most appreciative about who I worked with, what I learned, and sharing my work with different communities of people.
How will you disseminate your research?
I plan to share my research by creating more Pop Up zine-making workshops within the international transracial adoptee community. Currently, I am working on starting up an organization called, Adoption Creates. I want my research to be accessible to more adoptees and provide opportunities where adoptees can engage with my ideas.
What is your advice to other students about getting involved in research?
My recommendation to other students who are getting involved with research is, stick to an idea that you are truly passionate about. I learned that researching about an idea that I love opens many great and unexpected opportunities. In addition, create a support system that will send encouragement, and support throughout the entity of the project. Of course, have fun with your ideas! Experiment, play, and refine.
What are your career goals?
My career goals involve a mixture of continuing to study about art-based research methods, implementing those methods into re-designed workshops to support the international transracial community, and looking into ways on how to transfer this information towards human centered computing. In addition, I want to continue building my organization called, Adoption Creates.
12/10/18