Major: Biochemistry
"Enhancing the Inducible Mouse Model for Prostate Inflammation"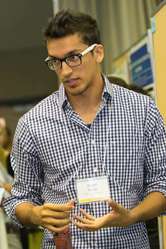 Prostatitis is the most common outpatient condition in men under fifty, and benign prostate hyperplasia (BPH) is the most prevalent male non-malignant growth disorder. In cases of asymptomatic inflammatory prostatitis, 90 percent exhibited elevated IL-1β expression. Using the rtTA-TetOn system, an inducible mouse model for prostate inflammation, pro-inflammatory cytokines such as Interleukin-1 Beta (IL-1β) were used to induce prostatic inflammation to further understand their roles in BPH and prostatitis. The model consists of the Tet-Operator driving the expression of the interleukin that is activated by the presence of doxycycline coupled with rtTA expression driven by the prostate-specific Hoxb13 promoter. The current aim is to increase efficiency of the rtTA-TetOn system by modifying the poly(A) signal of the rtTA gene. By changing the current SV40 poly(A) signal with the β-globin poly(A) signal, which is known to support robust transgene expression, we hypothesize that the rtTA gene expression will encompass all the prostate lobes, driving further expression of genes downstream of the Tet-Operator. A GFP reporter gene will be used to visually characterize expression in the prostate. Serendipitously, upon establishment of homozygosity of both rtTA and IL- 1β alleles in the mouse genome, prostatic inflammation expanded to all four lobes of the mouse prostate. This may have been due to the amount of rtTA expression reaching a certain concentration threshold that allowed for increased penetrance of the rtTA-TetOn system in the prostate. An improved rtTA-TetOn system that induces gene expression in all prostate lobes may offer insight into understanding roles of inflammatory cytokines in the prostate inflammation.
Funding for this project came from National Institute of Diabetes and Digestive and Kidney Diseases (NIDDK) was also supported in part by the. This investigation was also sponsored by NIH/NIGMS MARC U*STAR T3408663 National Research Service Award to UMBC.
What research have you been doing this summer?
My research is related to prostate cancer research in the context of recapitulating the condition in mice as a model organism.
How did you find out about this opportunity? Was there a formal application process?
I knew I wanted to work with Dr. Bieberich and was ready when I ran into him in person and got an on-the-spot interview. He got back to me when he said there was a graduate student in his lab that could use the help!
Who did you work with on this project?
I work with my graduate student Arya Ashok and occasionally with Dr. Bieberich himself.
Was this your first independent research project?
This was my first independent project when I started, but now I am in my third year in the lab. I can now look back to reflect where the project has taken me.
Do you get course credit for this work or get paid? How much time do you put into it?
I have had the luxury of getting both! Normally I work 12 to 15 hours a week.
What academic background did you have before you started?
I started the summer after my freshman year, so I had basic biology and chemistry knowledge.
How did you learn what you needed to know to be successful in this summer project?
To really learn effectively how to conduct research you have to put in a lot of time. Being in Dr. Bieberich's lab for my third year now has allowed me to develop this skill.
What has been the hardest part about your work this summer?
I had more to do this summer because my graduate student mentor was away for the summer at an internship.
What was the most unexpected thing?
The most unexpected thing was my growth as an undergraduate researcher because I was managing so much with my graduate mentor away. I definitely learned a lot about keeping tabs on all aspects of my both of our projects and learning how to plan months in advance for experiment we intend to carry out.
How does this research experience relate to your course work?
As a Biochemistry major the course work is extremely relevant. This semester, my Approaches to Molecular Biology class is right on pace with the methods and tools I use in lab almost every day.
What is your advice to other students about getting involved in research?
Take lots of initiative and develop a nice relationship with the people in the lab. It makes the experience so much better when you have people to bounce ideas off of.
What are your career goals?
I want to pursue a career as a physician scientist.
10/2/2014