Major: Africana Studies
"The Effects of Traditional and Faith Healing on Ghanaian Mental Health Policies"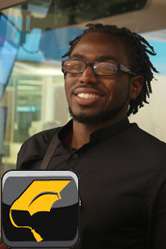 The Ghanaian government has passed laws and supported initiatives to address mental health illnesses. Even though the government proposes that inhabitants utilize western pharmaceuticals, a large portion of these populations consult traditional and faith healers. Through a close reading of the Mental Health Act 846 this paper will investigate the influences traditional and faith healing have had on the country's mental health care. This research utilizes the grounded-theory method to discern similarities in the healing processes. By analyzing the document for a mention or reference of the aforementioned similarities, one can infer that the forms of healing have had some influence on the healthcare system. This research will fill the void in scholarship that fails to discuss healthcare policies and their importance in understanding medical pluralism and if true integration of western medicine and religious-based healing is plausible.
How did you find out about McNair? When did you join?
I found out about the McNair program through Wanda Soares-Nottingham. She is the administrative assistant in the Africana Studies department. I expressed an interest in conducting research and she informed me of the program and the opportunities it offers. I joined the McNair program in January of 2014.
What have you gained from being a McNair scholar?
I have gained invaluable knowledge on how to conduct scholarly research with integrity and earnestness. The program has also armed me with the tools to ensure that I am successful in grad school and beyond. I have become more familiar with myself as well.
What is your most recent (or most interesting) independent research project?
My current research is titled "The Effects of Traditional and Faith Healing on Ghanaian Mental Health Policies". Research shows that there were only four practicing psychiatrists in the entire country of Ghana in recent years. As a result, the bulk of individuals dealing with mental illness rely on the healing practices of Traditionalists and Faith healers. I analyzed various Ghanaian initiatives and policies to investigate if the government was attempting to integrate spiritual leaders and processes into the health care system.
How did you find your mentor for this project?
My mentor for this project is Dr. Okomfo Ama Badu Boakyewa. I had the pleasure of taking her Contemporary African Politics course in fall 2013 and we instantly connected. Her research deals with the Akonnedi Shrine in Ghana and laid as the foundation to my work.
How did you know this was the project you wanted to do?
I knew from the very beginning that this was the research I wanted to conduct. In my leisure at UMBC I would find myself randomly reading about spiritual and cultural practices in Africa. I watched a number of documentaries and attended a number of lectures dealing with various aspects of the field as well. I was hooked. Unbeknownst to me I had been conducting research and building a bibliography all along. When the opportunity presented itself I could not resist.
How much time do you put into it?
I put my all into this research. I dedicated four to five hours a day this summer to ensure that my work was thorough. Each week had a designated topic that received the whole of my attention. Sundays became my writing days. Interviews were conducted to complement my research by demystifying concepts and processes.
What academic background did you have before you started?
Because I am an Africana Studies major, I am use to heavy reading and writing. I used the tools I garnered from my professors and coupled those with the skills I fostered from the McNair methodology course. I was well prepared.
How much did your mentor help you with your research?
Dr. Boakyewa went above and beyond her duties as a mentor. She retrieved rare articles that I could not access, arranged for me to meet with the leading researcher in my field and continued to pour into my spiritual being. Dr. Boakyewa set high expectations for my writing and refused to waiver. Her zany and fun-loving personality made for beautiful conversations that gave me an escape during rough patches in the research process. She is truly beautiful!
What has been the hardest part about your research?
The hardest part of my research was focusing my topic. Because there was a void in recent scholarship my ideas became bigger and bigger.
What was the most unexpected thing?
The most unexpected thing was the lack of documents and initiatives to analyze. The Mental Health Act 846 that I analyzed was passed in 2012 as the first of its kind in years.
How does your research relate to your work in other classes?
I have taken a number of courses where I come across literature that speaks of traditional healing in a demonizing way. It would be powerful to not only shed a true light on the practices but their efficacy as well.

What is your advice to other students about getting involved in research?
Conducting research is your duty as a UMBC scholar. Though it may seem intimidating, the rewards are more than fruitful. Your way of thinking will be changed forever and you will pick up skills that are transferrable to everyday life. Give it a chance!
What are your career goals?
I will be pursuing a PhD in Sociology, researching the relationship between non-cognitive skills and mental health. My focus will be on black adolescent males in the inner city. A children's book and an African/African American youth center are in the works as well. I am currently putting the finishing touches on a series of poems written from the perspective of a black male born in the 1920's. Life is good!