Major: Management of Aging Services
"Designing Accessible Hardware for Older Users: 'It's Never 2 Late' Touchscreen Interface Study"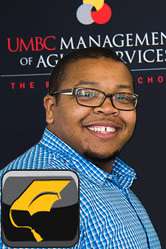 With a growing older adult population, it is beneficial they are connected with new and emerging technologies that improve their quality of life. A large part of this population is residing within retirement communities and as a society we could consider finding more accessible and intuitive technologies that promote engagement and quality of life. During this study, residents of CCNRC Family of Care will participate in a focus group providing their opinions on the design of a hardware that supports the IN2L's touchscreen computer. The findings will be useful for future touchscreen computer hardware designs to better enhance the life of older adults.
When did you join the McNair program?
I joined the Ronald E. McNair Scholar program during my senior year. I was inducted as part of the 22nd Cohort.
How did you find out about McNair?
I heard of the program after talking with two previously accepted scholars. Of the two, one of them kept pushing me to pursue McNair because I wanted a way to involve myself, as well as conduct research before entering graduate school.
What have you gained from being a McNair scholar?
Words cannot express the knowledge I have gained since becoming a McNair Scholar. Most importantly to me, I have learned how to properly research and tweak my networking skills. Also from being a scholar, I have learned to properly dine, to present at various conferences, and the dos and don'ts when applying to graduate school. McNair has helped me position myself to becoming a better student, a researcher, and a future PhD recipient.
What is your most recent (or most interesting) independent research project?
My most recent research project is working with seniors within a retirement community. During this study, seniors of a retirement community participated in a focus group on the accessibility of a stand that provides support for the "IN2L" touchscreen hardware. (IN2L provides adaptive technology for seniors.)
How did you find your mentor for this project?
I had previously worked with my mentor as her research assistant on a similar project at a retirement community. This research involved the use of technology and creating intergenerational relationships. After this great experience and knowing that my research interests are similar to hers, she signed on to mentor me.
How much did your mentor help you with your research?
Every step of the way, Galina Madjaroff was there to provide assistance. She has been a great help when it came not knowing where to start, pointing me in the next direction when I was lost, and editing my working; dubbing me the King of Commas.
How did you know this was the project you wanted to do?
I am a hands-on and people type of person and this project allowed me to continue to be that type of person. Though I love being planted in a book, something about assisting people in-person feels more rewarding.
What academic background did you have before you started?
Before I started, I had little research experience. My major, Management of Aging Services, assisted in giving me that extra push by providing a well rounded background in writing scholarly papers. The McNair program provided a research methodologies course that helped prepare me for the actual research portion.
What has been the hardest part about your research?
The hardest part of the research was the writing portion. This portion takes time to piece together, as well as going back and forth to ensure that all proofreading and edits were made.
What is your advice to other students about getting involved in research?
No matter what year you are as a student (I was in my senior year) or if you do not know how to go about conducting research, there are many resources available that can assist you in pre, during, and post. Find that one person, whether an mentor or professor, who can point you in the right direction.
What are your career goals?
I plan to obtain my PhD in management or technology with a research focus in aging. I hope bring awareness to aging and the great possibilities that lie within.
7/10/2014