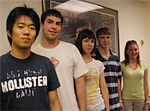 Research Students Experience
"Real World" at Summer Fellowship 2008
Ten UMBC students attended the National Institute of Standards and Technology's 2008 Summer Undergraduate Research Fellowship (NIST-SURF) in Gaithersburg, Maryland, making UMBC the second best-represented school at this year's program.
The 12-week program, which accepts about 100 students each year, is geared toward students interested in science or engineering. Students spend their summers working with top researchers in one of the world's leading research organizations, surrounded by their peers. Their ages range from freshmen just finishing their first year to recent graduates.
"Students are able to interact with 130 other engineers from throughout the country both in a personal and professional way," said Teresa Viancour, associate vice provost for undergraduate education.
NIST-SURF allows students to see the possibilities of a potential career in science or engineering by providing real-world research opportunities, Viancour said. Students engage in research by working with mentors in specific labs and presenting their projects at a Colloquium at the end of the summer.
"It was real research I was doing, and it will be used as real research," said sophomore computer science major Nadezhda Serova. "I was working in the real world on a smaller scale."
Most UMBC students who attended the program said they'd apply again, just for experience in a different field.
With help from the Office of Undergraduate Education, students are not alone in the NIST-SURF application process. Services include editing and proofreading personal essays, helping build resumes and submitting applications for the students. The Office also hopes to work with the Writing Lab and possibly the Career Services Center in the future. Since the Office of Undergraduate Education has become involved with the process, the number of accepted students has gone from one to ten in three years. And numbers are expected to grow.
"There is a lot of research on the UMBC campus but not enough for everyone," Viancour said. "Students may not be able to do it all in 12 weeks at the program, but they can see the possibilities and where a career in science or engineering could take them."
(8/25/21)