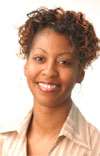 Carlise Bethel
B.S. Biological Sciences '98

Ph.D. Molecular and Cell Biology '06
Carlise Bethel arrived at UMBC from Oxon Hill High School in Prince George's County. She was a Meyerhoff Scholar, majoring in Biology. In her senior year, Carlise conducted research in the laboratory of Dr. Charles Bieberich. Carlise graduated cum laude in 1994 and she continued her research at UMBC as a Meyerhoff Graduate Fellow in the Molecular and Cell Biology Ph.D. program, with Dr. Bieberich as her advisor. Her research focused on the role of a prostate-specific gene in organogenesis and prostate cancer.
As a graduate student, Carlise received a Pre-doctoral Fellowship Award from the National Cancer Institute and was recognized as a Minority Scholar in Cancer Research by the Association for Advancement in Cancer Research (AACR). Most notably, she presented her work at the AACR Conference for Basic, Clinical, and Translational Advances in Prostate Cancer and the National Institutes of Health Minority Training Research Forum. Dr. Bethel is the first African-American to graduate from UMBC with a Ph.D. in Molecular and Cell Biology. She is currently a Cancer Biology Postdoctoral Trainee at the Johns Hopkins University Bloomberg School of Public Health in the laboratory of Dr. Terry Brown.
---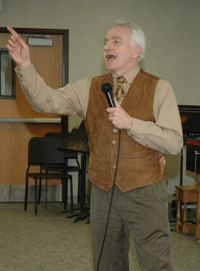 Kevin "KAL" Kallaugher
Kevin Kallaugher is the editorial cartoonist for The Economist magazine of London and Artist-in-Residence at UMBC. Born in Norwalk, Connecticut, Kevin, better known as KAL, graduated from Harvard College with honors in Visual and Environmental Studies in 1977. He then embarked on a bicycle tour of the British Isles, where he joined the Brighton Basketball Club as a player and coach. After the club hit financial difficulties, KAL drew caricatures of tourists in Trafalgar Square and on Brighton Pier. In March 1978, The Economist recruited him to become their first resident cartoonist in their 145-year history. KAL spent the next 10 years working in London as a cartoonist for such publications as The Observer, The Sunday Telegraph, Today and The Mail on Sunday.
KAL returned to the U.S. in 1988 to join The Baltimore Sun as its editorial cartoonist. Over the course of 17 years, he drew over 4,000 cartoons for The Sun while continuing to draw two cartoons per week for The Economist. KAL's work for The Sun and The Economist has appeared in more than 100 publications worldwide, including Le Monde, Der Spiegel, Pravda, Krokodil, Daily Yomiuri, The Australian, The International Herald Tribune, The New York Times, Time, Newsweek, U.S. News and World Report, and The Washington Post. His cartoons are distributed worldwide by Cartoonarts International and the New York Times Syndicate.
In 2006, KAL was named Artist-in-Residence at the Imaging Research Center at UMBC. With the IRC, KAL has pioneered the development of 3D digital caricatures that can be animated in Real-time. KAL has won many awards for his work and published several collections of his political cartoons. He has had one-man exhibitions in London, New York, Washington, and Baltimore.