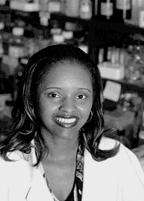 Crystal Watkins, M.D., Ph.D.
Post-doctoral Fellow in Neuroscience
The Johns Hopkins University Hospital
Dr. Crystal C. Watkins received both her M.D. and Ph.D. degrees from The Johns Hopkins University School of Medicine under the mentorship of Dr. Solomon Snyder in molecular and cellular neuroscience. She distinguished herself as a young investigator by being accepted as a Society for Neuroscience Fellow, an Academic Medicine Fellow of the National Medical Fellowships and Bristol-Myers Squibb, Inc., and a National Research Service Award recipient from the National Institutes of Mental Health and the NIH. Her thesis research led to a patented discovery for a new treatment for nerve disorders that affect diabetic patients. She was named Outstanding Intern of the Year at the Johns Hopkins/Sinai Program in Internal Medicine. She recently completed her residency in Psychiatry and Behavioral Sciences at the Johns Hopkins University School of Medicine where she served as Chief Resident for the 2007-2008 academic year. Dr. Watkins is currently the Alexander Wilson Schweizer Fellow in Mood Disorders and Neuroimaging as part of the Interdisciplinary training program in Psychiatry, Neuroscience and Radiology at the Johns Hopkins University School of Medicine. Her research focuses on using neuroimaging techniques in small animal models and human clinical investigations to better understand the neurotransmitter pathways involved in mood disorders, psychotic disorders and memory in the aging brain. She employs positron emission tomography (PET) and magnetic resonance imaging (MRI) to specifically study the serotonin transporter and inflammatory markers in families with a genetic susceptibility to bipolar illness, depression and Alzheimer's dementia.
In addition to her academic accomplishments, Dr. Watkins has a commitment to community education and volunteers with the Adolescent Depression Awareness Program, a school-based initiative at Johns Hopkins to educate high school students, faculty and parents about adolescent depression. She has been actively involved in mentoring programs and has traveled internationally to Guatemala and Ghana to volunteer in underserved areas. She is a member of the American Psychological Association, American Medical Association, the Society for Neuroscience and Alpha Kappa Alpha Sorority, Inc. Dr. Watkins is married to Nicholas Johansson and they have a three-year-old son, Noah.
---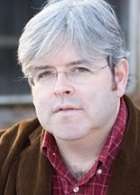 Richard Byrne
Member of The Dramatists Guild of America
Editor, UMBC Magazine
Richard Byrne is editor of UMBC Magazine. He is also a playwright. A one-act version of his play about Renaissance alchemy, Burn Your Books, took first prize in the 2007 Prague Playwriting Festival. The full version of the play will receive its world premiere in Washington D.C. on April 30 as a production of Taffety Punk Theatre Company.
Byrne took his B.A. in English at UMBC in December, 1986. He received an M.F.A. in Writing (Poetry and Playwriting) from Washington University in St. Louis in June, 1989. His first play, Untangling Ava, won first prize in Washington University's 1989 A.E. Hotchner Playwriting Festival and received its world premiere in that university's Drama Studio in May 1989.
Byrne has worked as an editor and a writer at a number of publications, including The Chronicle of Higher Education, Washington City Paper and Baltimore City Paper. His criticism and essays appear regularly in The Nation, BookForum and The American Prospect. His work has also appeared in the pages of the Washington Post, Foreign Policy and New York Press. Byrne was the recipient of a fellowship for the International Reporting Project in 1999, during which he studied media and government in Bosnia and Serbia.