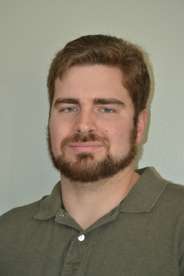 Joshua Barczak '03, MS '06
Joshua Barczak is a Senior Graphics Engineer at Firaxis Games, a respected, industry-leading game development studio located in Sparks, Maryland. Josh discovered computer graphics as a UMBC undergraduate, pursued it further with a graduate degree, and was able to turn this enthusiasm into a challenging, fulfilling, and successful career.
At Firaxis, Josh was a principal graphics developer on the flagship title: Sid Meier's Civilization V®, which has remained one of the most played titles on Steam® since its release. He is presently working on the development team for an unannounced title with ambitious graphical goals. Prior to joining Firaxis, he was a member of the 3D Application Research Group at ATI®, a leading developer of graphics accelerator cards. In this role, he developed tools and rendering techniques for product launch demonstrations, including Froblins and Ruby: Whiteout. In addition to developing production graphics software, Josh has had the opportunity to co-author technical articles and peer reviewed papers for SIGGRAPH, I3D, EGSR, and other venues. He has also served as a reviewer for graphics conferences and journals. In addition to his professional activities, Josh also dabbles in computer graphics in his spare time, and is the author of TinyRT, an open-source software library for ray tracing.
Josh began his research career as an undergraduate research assistant with Dr. Marie Desjardins. As an undergraduate, he also conducted independent research with Dr. Marc Olano, eventually publishing his work in the 2004 UMBC Review. At the urging of these mentors, Josh remained at UMBC as a masters student, supporting his studies as a teaching and research assistant and earning a master's degree in Computer Science in 2006.