Featured Students:
Mehki Adams | Siya Bhagat | Steven Bailey | Nicholas Bellamy | Peter Braunschweig | Madison Bramley | Jordan Brown | Jolee Cohen | Lillie Cimmerer | Courtney Culp | Michael Daugherty | Satyajit DasSarma | Andrew Ecker | Yu Fu | Yasmin Graham | Ethan Griffin | Lisa Hong | Melissa Hudson | Dominick Kroupa | Luke Ferguson | Morgan Miller | Rachel Morin | Tziona NessAiver | Heather Mortimer | Howard Nicholson | Ezra Pailer Mia Rickenbach | Michael Rowley | Iman Said | Jethro Ssengonzi | Julian Tash | Kelly Wan | Linda Wiratan | Nida Yousfi
---
Mehki Adams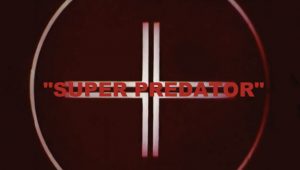 Super Predator
Mentor: Maleda Belilgne, English
Location: UC 310 | Time: 2:45 – 3 p.m.
"Super Predator" is a video art piece that reflects on the ways in which the media negatively depicts black identity and how that negative depiction is used to validate the social, legal, and physical mistreatment of black bodies. To create this piece, I compiled different images depicting negative black stereotypes and the physical mistreatment of black people. These clips, which range in historical time periods, constantly switch back and forth to resemble someone switching the channels on a television and to mimic the way stereotypes are typically spread. I show how these stereotypes and racist depictions have been nuanced throughout the years: ranging from images of docile slaves to super predators. The purpose of this piece is to bring attention to the circulation of negative stereotypes in the media and to display how racist narratives are used to justify unequal and brutal treatment of black people. The piece also illustrates the ubiquity of certain stereotypes, the context in which they are deployed, and through repetition forces viewers to confront their biases and assumptions.
---
Siya Bhagat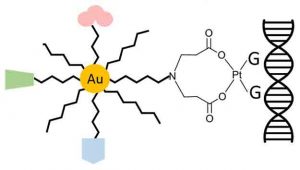 "Dendritic Delivery System for Chemotherapy Drug Cisplatin"
Mentor: Marie-Christine Daniel, Chemistry and Biochemistry
Location: UC Ballroom | Time: 1 – 2:30 p.m.
Ideal drug treatment for cancer requires that cancer cells be targeted with high efficiency, accuracy, and potency. Current treatment for cancer metastasis consists largely of chemotherapy drugs. However, due to its nonspecificity, many healthy cells are detrimentally affected, limiting its overall use. Drug delivery systems, specifically gold nanoparticles, have the potential to selectively target cancer cells and deliver a controlled yet potent dosage of chemotherapy drugs. In the overall project, gold nanoparticles are functionalized with branched molecules called dendrons that are terminated with chemotherapy drugs, imaging tags and antibodies, forming an overall multifunctional dendrimer. This project specifically focuses on the attachment of chemotherapy drugs to a dendron that will become part of the drug delivery vehicle. Diaqua cisplatin, a modified chemotherapy drug, was synthesized and subsequently coupled to second generation dendron TA-TEG-G2COOH. Structural integrity was evaluated using mass spectrometry (MS) and proton nuclear magnetic resonance (1H NMR). Although initial data shows that the dendritic delivery system is highly stable, payload capability and potential for cytosolic delivery need to be determined with further studies.
This work was funded, in part, through an Undergraduate Research Award from the UMBC Division of Academic Affairs.
(Back)
---
Steven Bailey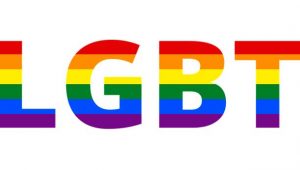 "Impact of Internet Pornography and Gay Dating Apps on the Mental Health of Men Who Have Sex With Men (MSM)"
Mentor: Shuyen Sun, Psychology
Location: UC Ballroom | Time: 10 – 11:30 a.m.
Online pornography and dating apps are used for a variety of reasons, ranging from online sexual exploration, connecting with other potential sexual partners, and engaging in both online and offline sexual activity. Recent research has suggested that prolonged use (over five hours a week) of use of online pornography can lead to increased rates of psychopathology, especially depression and low self-esteem. This connection is particularly common among gay and bisexual men, or MSM (Men Who Have Sex With Men). Through an extensive literature review, this study summarizes the empirical evidence of the connection between use of pornography and gay dating apps among gay and bisexual men. Preliminary analyses of 35 articles suggest that there seems to be a medium-sized correlation between the use of gay dating apps and the rise of sexual compulsivity, risk of psychological harm resulting from discrimination, and risk of eating disorders among MSM. These empirical data are imperative in understanding the risks faced by gay and bisexual men. They could inform the development of interventions for gay and bisexual men adversely affected by online pornography and gay dating apps and spur further research in this population.
(Back)
---
Nicholas Bellamy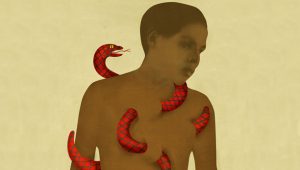 "Does Internalized Stigma Moderate the Association between Anxious Symptoms and Sickle Cell Disease Pain?"
Mentor: Shawn Bediako, Psychology
Location: UC Ballroom | Time: 10 – 11:30 a.m.
Sickle cell disease (SCD) is the world's most common genetic blood disorder and is characterized by episodes of severe pain. Recent studies have shown a link between SCD pain and anxiety, but little is known about the influence of other psychosocial factors. We evaluated the potential moderating effect of internalized stigma (i.e., negative personal feelings about having SCD) on the association between anxious symptoms and pain episode frequency in a sample of 69 adults (35 female; mean age = 35.4 years) attending a comprehensive SCD clinic. Bivariate correlation analyses showed a positive association only between anxious symptoms and pain frequency (r=0.40, p<.05). The test of moderation was non-significant (b=-0.001, p=.54); only the main effect of anxious symptoms on SCD pain frequency (b=0.03, p<.005) was observed. These results indicate that anxious symptoms are strongly associated with SCD pain frequency and that internalized stigma does not play a moderating role. Further study is needed to elucidate the mechanisms of anxiety that influence clinical aspects of SCD pain.
(Back)
---
Madison Bramley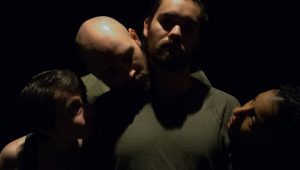 "Standing On Two Feet"
Mentor: Doug Hamby, Dance
Location: Dance Cube | Time: 10:20 a.m.
"Standing On Two Feet," the product of my research, premiered in UMBC's First Works concert Fall of 2017. While there are many purposes to create a dance spectacle for an audience, what I find most interesting is when dance portrays an idea that would otherwise be an uncomfortable subject for everyday conversation. By utilizing human movement and body language, we can create a wider range of expression. I began my research with a focus on morality and altruism. The object of the study was to identify how many different ways a person might react to, or deal with a scenario as it is instigated. During my time in the fall 2017, I studied the basics of personal interaction, snap judgments, and coping mechanisms. The purpose of the study was to take a quick reaction, and elongate it into a visual representation that that would allow an audience to analyze it subjectively. This research provides an introduction of dance's ability to interpret what would normally be a passing moment, into a larger depiction. Further analysis and research concerning this topic is necessary to determine the significance of the subject as this represents only a narrow range of circumstantial outcomes.
(Back)
---
Peter Braunschweig
"Urban Heat Islands and the Great American Eclipse"
Mentor: Jeffery Halverson, Geography and Environmental Systems
Location: UC Ballroom | Time: 10 – 11:30 a.m.
The urban heat island effect is a phenomenon in which, due to human activity, cities exhibit higher temperatures than their surroundings, especially at night. The goal of this study is to determine whether the heat island effect is similarly pronounced during a total solar eclipse. During the "Great American Eclipse" on August 21, 2017, surface temperature data was collected from weather stations across Missouri, focusing on the city of St. Louis and the surrounding area. Temperature measurements were made every five minutes from 1700 UTC to 2000 UTC. Additionally, weather balloons were used to collect data from higher in the atmosphere, with multiple launches across three different launch sites. The change in temperature near St. Louis was compared to the change in temperature in nearby suburban and rural environments. Our studies so far confirm more cooling in rural areas than in the St. Louis area. We expect that these results could be useful to improve weather forecasting for these rare astronomical events.
This work was funded, in part, through an Undergraduate Research Award from the Division of Undergraduate Academic Affairs.
(Back)
---
Jordan Brown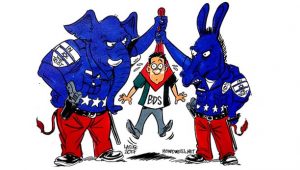 "The Freedom to Boycott: An analysis of state interactions between BDS movements and Israel"
Mentor: Laura Hussey, Political Science
Location: UC Ballroom | Time: 1 – 2:30 p.m.
My research paper explored the motives behind states' increased legislation against Boycott, Divestment and Sanctions movements and its correlation with the strength of states' connections with Israel. My first hypothesis stated that if a state has economic investments with Israel, it will be more likely to adopt anti-BDS legislation, so to avoid interruptions with a prominent trading entity. My second hypothesis stated that the percentage of Jewish residents would correlate with the likelihood of having anti-BDS laws, because the larger a group within a population is, the more representation said group has to influence policy within the state. I compared the percentage of the Jewish population, exports to Israel in 2015, and the gross domestic product in 2015 of 13 states against whether or not each state had anti-BDS legislation. My findings suggested that higher rates of Jewish residency and economic investment in Israel both increase the probability that states will pass anti-BDS legislation. The research also provided a qualitative analysis of the legislation's motivations and its likely effects on 1st amendment rights. This research is important to inform the general public of the implications of enacted legislative bans and current proposals being presented nationwide as well as possible solutions.
(Back)
---
Lillie Cimmerer, Dominick Kroupa, Michael Daugherty, Andrew Ecker, Yu Fu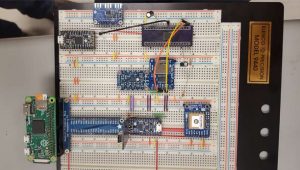 "Freight Shipment Monitoring Device (FSMD)"
Mentor: Charles Laberge, Computer Science and Electrical Engineering
Location: UC Ballroom | Time: 10-11:30 a.m.
Upon the receipt of sensitive equipment, a significant amount of equipment failure has been noticed. One possible cause of these failures may be destructive or damaging handling during the shipment process. To determine if this was the cause of the damages, the Freight Shipment Monitoring Device (FSMD) was designed for NovaTech, a process solutions company that creates their own hardware and software. NovaTech has been experiencing issues with receiving malfunctioning hardware. This device was implemented to actively monitor vibration intensity and duration, and package orientation during shipments. If the shipment experienced potentially threatening vibration intensities or durations, the vibration data was recorded and stored on the device. Also if the device detected tipping or falling, the data was recorded and stored. If any of these events occurred, the data was timestamped and the location was recorded using GPS. After the shipment, if the recipient noticed damages, they were able to send the data to NovaTech for analysis. The data was either mailed electronically or physically to NovaTech.
This work was funded, in part by the Department of Computer Science and Electrical Engineering.
(Back)
---
Jolee Cohen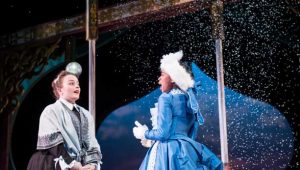 "Summer Shakespearean Study"
Mentor: Eve Muson, Theatre
Location: Dance Cube | Time: 10:40 a.m.
This project involves the honing of a theatrical craft via new materials, techniques, teachers, and environments. I spent a month in London, UK, at the London Academy of Music and Dramatic Art, studying in their Shakespeare Short Course. There, I was introduced to classical acting and research techniques for working with and performing Shakespeare. These techniques came from classes, rehearsals, and performances surrounding voice, stage combat, movement, dance, and textual analysis. All of it culminated in a final performance of the play As You Like It on my last day of the course. That process continued when I took what I learned and implemented it into my performance work in UMBC's recent production of Twelfth Night, as well as using it to help others around me in the production when necessary.
This work was funded, in part, by the Linehan Summer Research Award from the Linehan Artist Scholars Program, as well as through an Undergraduate Research Award from the Division of Undergraduate Academic Affairs.
(Back)
---
Courtney Culp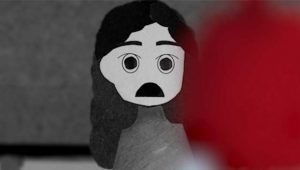 "Color of Me"
Mentor: Corrie Parks, Visual Arts
Location: UC 310 | Time: 3:00 p.m.
Color of Me is an abstract animated short, representing how I felt about my cultural identity as a child and how I embraced it as I grew up. In the story, a young girl notices the color of people around her and her lack thereof, so she embarks on a mission to obtain a color for herself. Only after several failed attempts does she realize that there are many people like her without color and is happy to belong.
The film was done using both traditional stop motion techniques and computer animation. I hand crafted and cut out every aspect of the film. I shot the majority of the footage at the stop motion station, filming with a green screen background to allow myself more manipulation when editing in PremierePro. I also used a program called Character Animate, which allowed me to build/rig a "puppet" in Photoshop. Character Animate also provided additional controls where I could change my facial expressions through my laptop camera for more fluid movement in the facial expressions of my character. This film allowed me to share a personal part of my life while also allowing the audience to make connections to their own lives as well.
(Back)
---
Satyajit DasSarma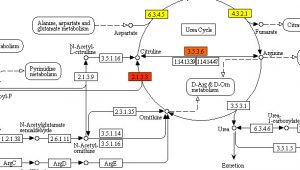 "HaloWeb: An Integrated Web Application Suite for Prokaryotic Genomic and Transcriptomic Analysis"
Mentor: Shiladitya DasSarma, University of Maryland School of Medicine
Location: UC Ballroom Lounge | Time: 10:15 -10:30 a.m.
HaloWeb is a web application suite for highly integrated genomic and transcriptomic analysis of prokaryotic microorganisms. With the arrival of new high-throughput sequencing technology, more genomic information is available than ever before, with an accompanying need for bioinformatic analysis tools. Several major data providers including NCBI's RefSeq and GEO projects as well as analogous offerings from EMBL fill the need for a generalized data repository. However, these large public repositories may be outperformed by purpose-built knowledge management systems, especially for specific clades of organisms. Through a major enhancement of the HaloWeb project, powerful new features for transcriptomic analysis, enhanced visualizations, comparative genomics, and curated commentary have been added. In addition, a Sequence Editor and other auxiliary tools were revamped, and the interface of the site was refreshed utilizing a new JSON API. The new HaloWeb represents an innovative bioinformatic resource incorporating analysis tools in an integrated website that is useful both in the research laboratory and in the bioinformatics classroom. This current iteration is being used for cutting-edge intersectional data analysis of extreme microorganisms called Haloarchaea.
This work was supported by NASA Grant NNX15AM07G.
(Back)
---
Luke Ferguson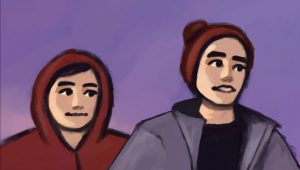 "The Longfellow Hill"
Mentor: Corrie Parks, Visual Arts
Location: UC 310 | Time: 3:30 – 3:45 p.m.
In this 49 second self-portrait animation two siblings go sledding at their neighborhood hill and a sequence of funny gags ensue. As they slowly carve a path down the hill a series of mishaps hinder their progress. Will they even make it to the bottom? I chose the activity of sledding due to its potential as an encouragement for perseverance as each time you go down you carve out more of a path allowing you to go further the next time. Even the runs that seem to end in disaster impart experience needed to make a stronger future attempt. Created in the raster based software Krita, The Longfellow Hill utilizes a digital painting style approach in its animation. This method was chosen for its unique visual look after being previously used in a rotoscoping assignment. Sound design, which drew from stock sound libraries, is primarily diegetic in nature emphasizing the actions taking place and helping to build the atmosphere of the short.
(Back)
---
Yasmin Graham, Adegboyega Akinsiku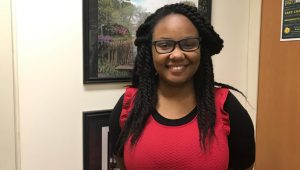 "Rethinking Telerehabilitation: It's Not The Metrics"
Mentor: Helena Mentis, Information Systems
Location: UC Ballroom | Time: 10-11:30 a.m.
Telerehabilitation is providing rehabilitation services outside of a formal rehabilitation center through information and communications technology (ICT). Currently, emphasis is placed on the computational work – recognizing movement and quantifying it for use in home-based rehabilitation systems. For this study we wanted to further understand what information a rehabilitation specialist (occupational therapists and physical therapists) currently use, and how they would use that information in a telerehabilitation context when providing care to stroke survivors living in low-resource communities. We conducted a series of observations and interviews of stroke survivors and rehabilitation specialists and then categorized information and interaction behaviors into themes using an event logging software, Noldus Observer. We discovered rehabilitation specialists were not solely interested in the movements performed, but preferred more contextual and subjective information on their patients. Additionally, these specialists were eager to learn more regarding the everyday tasks their patients are completing to ensure the exercises that are prescribed translate to everyday tasks and functions. From our findings, we assert that telerehabilitation needs to centralize the experience of the patient and use movement data as a secondary supporting information source.
This investigation was sponsored by NIH/NIGMS MARC U*STAR T3408663 National Research Service Award to UMBC.
(Back)
---
Ethan Griffin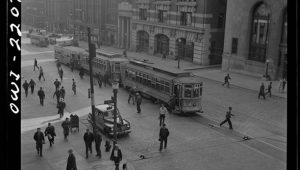 "Urban Transportation Landscapes: A GIS and Political Historical Narrative of Baltimore's Transportation Deficiency"
Mentor: Laszlo Korossy, Political Science; Symmes Gardner, CADVC
Location: UC 312 | Time: 11:30 – 11:45 a.m.
The intent of the research is to represent the extent of Baltimore City's transportation deficiency through the use of an interdisciplinary mixed method analysis utilizing the lens of Geographic Information Systems (GIS) and Political History. Metropolitan transportation is a complex network of mobility which contributes to the success of tangential urban systems which include but are not limited to access to green space, education and economics. Baltimore is in a state of transportation deficiency which is leading to one of the greatest injustices in the city right now and has thus affected other urban systems and services. A GIS network analysis was conducted for each method of transportation in Baltimore city currently (i.e. transit, automobile and walking) in order to understand access to jobs and the influence of the deficiency on various population demographics. A political historical review was conducted in order to understand the impact of various policies from both state and city officials, which has contributed to the current state of deficiency. The research spotlights the potential for improvements to the system and the general urgency with which new policy and action must be taken to improve the inequities that currently exist.
(Back)
---
Lisa Hong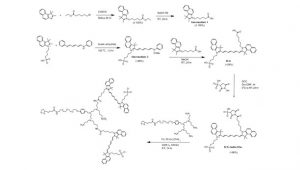 "Synthesis of Near Infrared Imaging Dendron for Use in Theranostic Systems"
Mentor: Marie-Christine Daniel, Chemistry and Biochemistry
Location: UC Ballroom | Time: 1 – 2:30 p.m.
Efficient drug delivery systems are essential to effective treatment. For treatment of complex diseases like cancer, using multifunctional systems could lead to optimal treatment by combining therapeutic, targeting, and imaging agents. With nanotheranostics, nanoparticles can be tailored with distinctive dendrons. Two dendrons could be synthesized specifically to target and track/label cancer cells, respectively, so doctors can visualize them better. Near Infrared (NIR) fluorescent dyes are useful because they do not harm somatic cells and their longer wavelengths of absorption can penetrate the skin more efficiently. The objective of this project is to synthesize a NIR fluorescent tag and to couple it to a dendron that will provide the imaging building block of a multifunctional drug delivery system. This method consists of two steps: (1) the synthesis of Indocyanine green (ICG) NIR optical tag, and (2) the attachment of ICG to the TA-TEG-G3NH2 dendron. ICG was characterized using UV-visible spectroscopy and mass spectrometry; the dendron was analyzed using 1H NMR spectroscopy. The overall goal is to combine the ICG dendron with other dendrons like therapeutic dendrons around the same gold particle core to create nanotheranostic systems. Further fluorescence studies will be performed on this final multifunctional system.
This work was funded, in part, through an Undergraduate Research Award from the UMBC Division of Academic Affairs.
(Back)
---
Melissa Hudson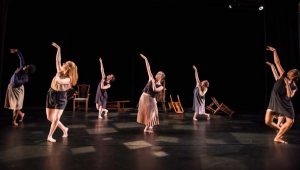 "The Weight of Waiting"
Mentor: Doug Hamby, Dance
Location: Dance Cube | Time: 10:00 a.m.
This research project has focused on the creation of an original contemporary dance work with a prominent theme and deeply-explored compositional ideas. In order for every viewer to be able to relate to the core concept of the dance, the main creative goal of this research has been to bring ordinary, everyday activities to the stage in an intriguing way. This capstone work explores the inevitable human experience of having to sit and wait. Included in the dance are seven dining-room chairs that are used as both a physical and emotional confinement to the dancers and to the choreography, as well as adding an exciting, architectural obstacle to the stage. Showcasing an array of dynamics and musicality, the eye-catching movement utilized throughout the piece illustrates an ever-changing, internal rhythm. Using a variety of dance styles, the seven dancers and choreographer have collaborated closely to create movement that displays the emotional journey of waiting in a way that is recognizable for all people. This creative project has involved a passionate and diverse company of movers who dance as both strong individuals and as a cohesive group, working together to overcome the confinement of stagnancy.
(Back)
---
Morgan Miller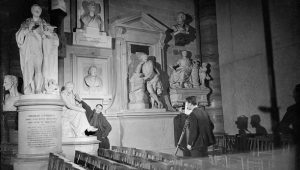 Humphrey Jennings and the Documentary of the "People's War""
Mentor: Daniel Ritschel, History
Location: UC Ballroom Lounge | Time: 11:45 – Noon
The purpose of my research is to examine the work of Humphrey Jennings, a British documentary filmmaker during the Second World War. My particular focus is to examine how his highly influential films helped lay the foundations for what historians today refer to as the myth of the "People's War"; a widespread belief in Britain that the war effort had rested in large measure on the extraordinary efforts and resilience of ordinary civilians on the home front. My central question is whether Jennings' wartime documentaries recorded and reflected this contemporary belief, or whether his popular films helped construct and shape the popular narrative of the "People's War." Historians agree that his innovative documentaries both shaped the genre and had a major impact on how people viewed the Second World War, particularly the myth of the "People's War." It is important to study Humphrey Jennings and his films because the narrative of the "People's War" has solidified into the dominant popular narrative of the British experience in the war.
(Back)
---
Rachel Morin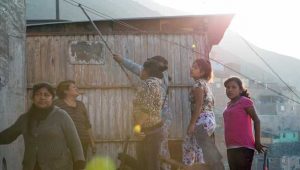 "Freely You Have Received, Freely Give: A Documentary of Catholic Missions in Peru"
Mentor: Sarah Sharp, Visual Arts
Location: UC 310 | Time: 3:45 – 4:00 p.m.
Christian missionaries travel to impoverished areas where they build and paint houses, move rocks, and give snacks to hungry children – but what is the ultimate purpose of this service work? What drives people to leave their comfortable homes to endure cold showers and less than six hours of sleep in a place where they are seen as foreigners? Are these young people really making a difference? This film explores the missions of a Catholic University in Lima, Peru, which has orchestrated service work in the poorest areas of the city for over seventeen years. From June to early August of 2017, I traveled to the site of these missions with my bulky DSLR camera to interview student missionaries, their mentors, and the people they served. What I found was that while the material wealth and manual labor were a welcome help, the most distinguishing aspect of these missions was the lasting partnership formed between communities in need and the university students.
This work was funded, in part, through the Linehan Artist Scholar Summer Study Award, and was a recipient of the Undergraduate Research Award from the Division of Undergraduate Academic Affairs
(Back)
---
Heather Mortimer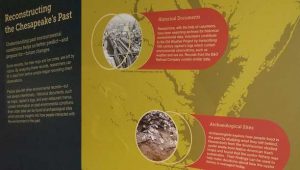 "The Impact of Exhibition Design on Free-Choice Learning in the Albin O. Kuhn Library Rotunda"
Mentor: Sandra Abbott, CADVC
Location: UC Ballroom | Time: 10 – 11:30 a.m.
Museum exhibits provide an opportunity for people to engage with educational content in a way that is fun and accessible. This study explored whether visual, interactive, and participatory exhibit design techniques would result in greater visitor engagement within the AOK Library Rotunda, which is often used for small exhibitions. Previous work done in museums and other free-choice learning situations has shown that including less text and more visual, interactive, and participatory experiences increases visitor engagement. The Rotunda presents a unique challenge in that there are many reasons to visit the library other than to see an exhibition. As a result, the exhibit must attract and hold visitors' attention regardless of their reason for visiting. To test this, two exhibits were developed using the same objects and content, but different design techniques, and they were evaluated using timing and tracking methods. Over four, one-hour evaluation periods, the exhibit developed without visual, interactive, and participatory techniques had three visitors; while the exhibit developed with these techniques had 23 visitors over four, one-hour evaluation periods, providing support for the use of these techniques. This research has implications within other fields that utilize free-choice learning, such as health and science communication.
This work was funded, in part, through an Undergraduate Research Award from the Division of Undergraduate Academic Affairs.
(Back)
---
Tziona NessAiver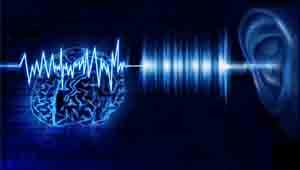 "Learning To Listen: The Sound of the Brain's Alpha Waves"
Mentors: Charles LaBerge, Computer Science and Electrical Engineering; Susan Bachus, Psychology
Location: UC Ballroom | Time: 1 – 2:30 p.m.
While electroencephalogram, (EEG) data is commonly used to investigate the brain through analytical graphs of electrical output, this study tests the possible use of EEG data when converted to sound; specifically to augment human communication. An EEG gathers electrical signals from the neural cortex via electrodes placed on the scalp. This study converted to sound the alpha wavelength signals collected from a subject's visual cortex during two distinct brain-states: eyes-closed and eyes-opened. We tested whether it was possible to distinguish between these two states by listening to the sounds produced. This was compared to the ability to distinguish the same brain-states by looking at a graph of the alpha waves. The auditory test bypasses more common numerical and spatial analysis, allowing a listener to make more intuitive interpretations of brain signals. This use of EEG data could give care providers a tool to identify when brain state changes occur in patients such as those in-locked in states, or suffering from PTSD. It could also be used in neurofeedback to learn self-regulation of brain states for improved focus on tasks, such as drone piloting.
This work was funded, in part, through an Undergraduate Research Assistantship Support (URAS) Award from the UMBC Office of the Vice President for Research.
(Back)
---
Howard Nicholson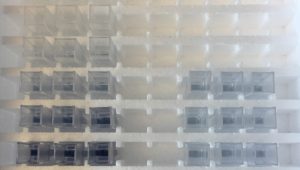 "Comparing The Re-Differentation Of Retinal Pigment Epithelial Cell Lines Grown On Various Substrates"
Mentor: Debra Thompson, University of Michigan; Kecia Feathers, University of Michigan
Location: UC Ballroom | Time: 10 – 11:30 a.m.
The retinal pigment epithelium (RPE) of the eye acts as a protective barrier and transports nutrients to the retina. RPE cells can be grown in culture but they do not perfectly maintain in vivo properties. The aim of this study was to compare marker expression for RPE cells grown on plastic and transwell substrates. In order to test this, three different cell lines (RPEJ, ARPE19, and D407) were plated and grown over the course of multiple weeks to determine which surface is best for differentiation. After the cells reached confluency, they were harvested, sonicated, and a protein assay was conducted to quantify the protein present in each cell line. The protein samples were analyzed by Western blotting. Beta-actin, MERTK, and OTX2 were visualized by alkaline phosphatase detection to evaluate protein loading and expression. The results showed that there was more protein per surface area from cells grown on transwells; the D407 cell line had the most protein present. The RPEJ cell line showed the biggest difference in protein whereas ARPE19 showed the biggest difference in marker expression between cells grown on transwells and plastic. From these data, I can conclude that culture conditions affect RPE cell growth and marker expression.
This work was funded, in part, by the UM-SMART Program.
(Back)
---
Ezra Pailer
"The Poetry of Jordann Allen: An Animated Documentary"
Mentor: Corrie Parks, Visual Arts
Location: UC 310 | Time: 3:15 – 3:30 p.m.
Baltimore and D.C. are home to remarkable communities of writers and artists who use poetry as a powerful tool to explore personal inner narratives. I've collaborated with D.C. area poet Jordann Allen to create an animated documentary that presents a selection of her writings and reveals how an artist's intimate realms of imagery can be expressed across both visual and spoken mediums. The film provides a vivid glimpse into the worlds of Allen's personal symbolism by combining hand-drawn animation with live-action film. Guided by the imagery in Allen's poems, each scene was crafted in Adobe After Effects from an assortment of hand-illustrated Photoshop animations, digitally manipulated found images, and collections of live-action footage that were gathered in places ranging from local farms to friends' gardens to coastal landscapes. The audio of Allen reading her poetry has a serene and fluid quality; this presented an interesting challenge in designing animated sequences that complement the flowing nature of a medium like poetry. The vision for this documentary is that it will invite viewers into the intricate worlds of imagery within Allen's work as well as exhibit ways written or spoken art forms can be translated into motion. Allen will be joining me at URCAD in the presentation of the film.
This work was funded, in part, through an Undergraduate Research Award from the Division of Undergraduate Academic Affairs.
(Back)
---
Mia Rickenbach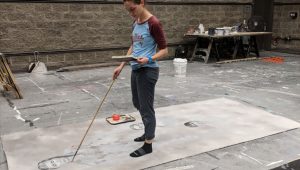 "Seeing the Stories: How Art Can Impact Human Trafficking Awareness"
Mentor: Nate Sinnott, Theatre; Stephen Bradley, Visual Arts
Location: UC Ballroom | Time: 1 – 2:30 p.m.
This research was a study of theatrical scenic art, which evolved into a project investigating the impact of visual storytelling on human trafficking awareness. The study of scenic art included working in large-scale, trompe l'oeil illusion painting, matching paint color, and faux finishes such as marble and wood grain. These techniques were developed at Cobalt Studios' Summer Scene Painting, and employed in the scenic design and painting of UMBC's Department of Theatre productions. Unexpectedly, Half the Sky, UMBC's first-year experience book, influenced this study with its content regarding human trafficking. While continuing investigation of modern-day slavery, the focus became the lack of awareness about the issue, particularly in the United States. It was also found that large statistics have a numbing effect on audiences, whereas personal stories lead to empathy and response. The art of theatre is that of telling a story, often with the intention of connecting with audience members. The result of this research was a development of a form of visual storytelling to engage the public in a meaningful conversation about the realities of human trafficking.
This work was funded, in part, through an Undergraduate Research Award from the UMBC Division of Academic Affairs. This work was also funded, in part, by the William T. Brown Shakespeare on Wheels Scholarship Award from the UMBC Department of Theatre.
(Back)
---
Michael Rowley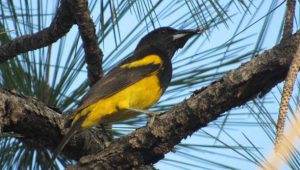 "Non-Breeding Season Habitat Usage of the Critically Endangered Bahama Oriole"
Mentor: Kevin Omland, Biological Sciences
Location: UC Ballroom | Time: 10 – 11:30 a.m.
The Bahama Oriole (Icterus northropi) is a critically endangered songbird endemic to Andros, The Bahamas. An accurate understanding of the Bahama Oriole's habitat use is essential to implement effective conservation strategies. Previous research led by Price et al. (2011) concluded that Bahama Orioles depend heavily on coppice (broadleaf forest) during the non-breeding season. Recent findings of nests in pine forest by Stonko et al. (in press) demonstrated that Bahama Orioles use a wider variety of habitats than previously realized. We conducted point count surveys on North Andros during the breeding and non-breeding seasons across two years to comprehensively address habitat use. We found no indication that Bahama Orioles depend heavily upon coppice. This conclusion contradicts previous findings, and most likely reflects a more complete understanding of the Bahama Oriole's habitat usage. Whereas broadleaf coppice habitats are sometimes used by birds on nearby territories for foraging, efforts to save the Bahama Oriole from extinction will likely need to protect a broad range of habitats, especially pine forest.
This work was funded, in part, through an Undergraduate Research Award from the Division of Undergraduate Academic Affairs.
(Back)
---
Iman Said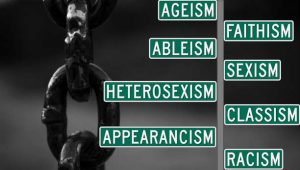 "The Role of Socioeconomic Status on the Relationship Between Number of Marginalized Identities and Mental Health"
Mentor: Jasmine Abrams, Psychology
Location: UC Ballroom | Time: 1 – 2:30 p.m.
Despite the correlation between experiences of marginalization and negative mental health outcomes, little research exists regarding the effect of socioeconomic status on this relationship. Although socioeconomic status can increase access to resources (e.g., healthcare, therapy, higher education) the impact of these privileges on the mental health of marginalized individuals is understudied. The present study assessed two main hypotheses: 1) higher number of marginalized identities will predict higher stress and depressive symptoms and 2) higher socioeconomic status will decrease the strength of the relationship between number of marginalized identities and stress and depressive symptoms. Participants were 218 undergraduates recruited from a university in the Mid-Atlantic region of the United States through an online research subject pool to complete an online questionnaire. In support of Hypothesis 1, results of a correlation analysis revealed a statistically significant positive relationship between number of marginalized identities and stress and depressive symptoms. Hypothesis 2 was partially supported as socioeconomic status did not moderate the relationship between number of marginalized identities and depressive symptoms but did moderate the relationship between number of marginalized identities and perceived stress. This study provides new information regarding the mental health of marginalized populations. Implications and future directions are discussed.
This work was funded, in part, through an Undergraduate Research Award from the UMBC Office of Undergraduate Education.
(Back)
---
Jethro Ssengonzi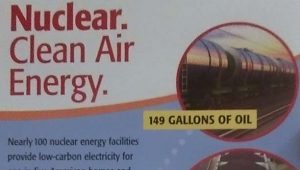 "Surface Phenomena Driving Natural Surfaces"
Mentors: Lindsay Shuller-Nickles, Clemson University; Marian Kennedy, Materials Science & Engineering, Clemson University
Location: UC Ballroom | Time: 10 – 11:30 a.m.
Two projects were explored during the 10-week period. Through both phases of research, computational skills were gained and advancement in the understanding of surface reactions was accumulated, under the mentorship of Dr. Lindsay Shuller-Nickles. The first project looked at how chirality affects surface reactions between pesticides and soils, while the second project focused on determining the morphology of coffinite (USiO4). The first project was worked on for the first five weeks and then halted because minimal results were yielded due to the large atomic systems under investigation using quantum-mechanical calculations. The second phase of research involved the continuation of graduate student Megan Hoover's work on coffinite. The coffinite calculations took less time to finish and yielded more definitive results. A profound takeaway was that the coffinite slabs with uranium atoms on or near the surface had lower surface energies, and were therefore more stable, than those without uranium atoms on or near the surface.
This work was funded, in part by the National Science Foundation.
(Back)
---
Julian Tash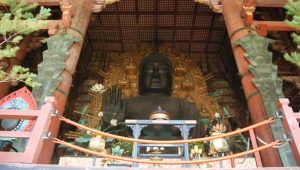 "Bodies of Devotion: The Display of Buddhist Statues"
Mentor: Preminda Jacob, Visual Arts
Location: UC Ballroom | Time: 10 – 11:30 a.m.
Statues of the Buddha are seldom created for museums. They are instead intended to be displayed in temples, where they might be distanced from viewers by partitions or obscured in darkness—a stark contrast to well-illuminated museum spaces in which visitors can closely approach displays. Despite this distance, however, the temple context is intimate. Before entering a temple, physical rituals, such as wafting incense smoke over one's head, physically connect devotees to Buddhism. This study begins by investigating major themes in Japanese Buddhism by combining secondary materials with primary research conducted at Buddhist sites in Kyoto, Nara, Nagoya, Fukuoka, Nagasaki, and Tokyo. Then, it explores how these contexts relate to the role of museums in displaying Buddhist statuary. The role of museums and temples are fundamentally different and museums risk creating a disingenuous exhibition when they try to recreate a temple space. However, museums also have a unique opportunity to resonate with visitors by using the physical museum space in addition to object texts to communicate information. This study concludes by utilizing first hand observations, personal experience from an internship at the Walters Art Museum, and secondary research in museum studies to recommend display strategies for Buddhist statues.
This work was funded, in part, through an Undergraduate Research Award from the Division of Undergraduate Academic Affairs.
(Back)
---
Kelly Wan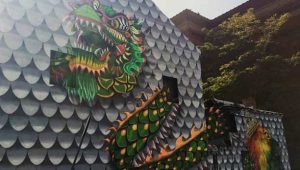 "Baltimore's Chinatown: Preserving Memory and a Conflicted Community"
Mentor: Nicole King, American Studies
Location: UC 312 | Time: 10:00 – 10:15 a.m.
Most of Baltimore's histories revolve around African American and Caucasian neighborhoods, but an obscure part of the city near the intersection of Park Avenue and Mulberry Street has forced us to look into a lesser known demographic and its narrative. Baltimore's Chinatown presents a unique case study examining the transformation of a site of segregation and isolation to a center of celebration and connection for the greater Asian American community. My research focused on reasons to remember and preserve the area. Using urban ethnography, interviews, and supporting textual analysis, I explored Chinatown's complex origins, prime, decline, and wishes for future revitalization. Upon examination, I discovered that Chinatown functioned as a place for cultural exchange and shared background, facilitating political, economic, and social networks among residents. For many Chinese immigrants, Chinatown was their support system. However, with suburban flight and assimilation into American society, the next generation of Chinatown lost their physical and cultural ties to the community. For us, Chinese Americans, Chinatown has become the segue to reconnect with our heritage, foster belonging in a diverse space, and open a dialogue on both contemporary Asian American urban identity and Chinatown's importance on the overall patchwork of Baltimore.
(Back)
---
Linda Wiratan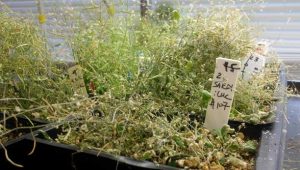 "Effects of Elicitor-Induced Defense Activation on the Circadian Clock in Arabidopsis"
Mentor: Hua Lu, Biological Sciences
Location: UC Ballroom | Time: 10 – 11:30 a.m.
It has recently been shown that crosstalk exists between the circadian clock and innate immunity in the model plant Arabidopsis thaliana. To further characterize this crosstalk, my project examined the effect elicitors, pathogen-derived compounds that induce plant defense responses, have on the circadian clock in terms of period, phase, and amplitude. Using the luciferase assay, a bioluminescent method of measuring gene expression, we describe the effect of coronatine, methyl jasmonate, elf26, flg22, fumonisin B1, and methyl viologen on circadian expression of the luciferase (LUC) reporter gene driven by a clock-regulated promoter, the CCA1 or GRP7 promoter (CCA1pro::LUC or GRP7pro::LUC). For CCA1pro::LUC, all phases were reduced, and elf26 and fumonisin B1 shortened period, while coronatine lengthened it. For GRP7pro::LUC, all treatments reduced amplitude, though only methyl viologen and coronatine lengthened the period. Repeat assays supported the observation that coronatine is consistently period-lengthening; this elicitor is a subject of further study. Overall, these results show that induced plant defenses have an elaborate impact on CCA1 and GRP7 circadian expression; we will expand our study towards more clock components and wider elicitor types. My project contributes to a deeper understanding of plant immunity, which directly impacts agricultural disease control and human medicine development.
This work was funded, in part, through an Undergraduate Research Award from the Division of Undergraduate Academic Affairs.
(Back)
---
Nida Yousfi, Zachary Pohuski, Hannah Paul, Zulkarnain Choudhury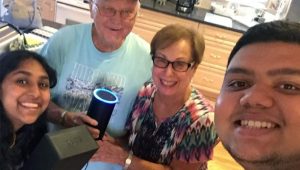 "Supporting Caregivers and Care Recipients After the Onset of Cognitive Impairment with Home Based Technology"
Mentor: Galina Madjaroff, Aging Studies
Location: UC Ballroom | Time: 1 – 2:30 p.m.
Mild Cognitive Impairment (MCI) causes a decline in cognitive abilities in an individual which includes memory loss. Individuals with MCI have a higher chance of developing Alzheimer's or dementia. This study focuses on understanding the narratives of people living with mild cognitive impairment and their partners through the use of home technology. The participants in this study were older couples in which one partner was recently diagnosed with cognitive impairment and the other acted as their caregiver. The focus was to examine whether the home-based intelligent speaker- Amazon Echo "Alexa" supported both caregiver and care recipient with mild cognitive impairment. Amazon Alexa units were installed in the home of all the participants. After the installation, the participants were interviewed about their expectations of using Alexa and to gauge how the couples were adjusting to the recent diagnosis of MCI. Usage data from Amazon Alexa unit was retrieved every three weeks. The data was then analyzed, and conclusions were drawn based on treads and interesting questions that were asked by the participants.
(Back)
9/9/2021