Anthropology and INDS
"Baltimore Voices: Creating a Comprehensive Sense of Place and Identity"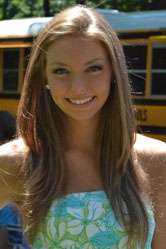 When many people think of Baltimore, images from the television drama, The Wire, come to mind. But, Baltimore has so much more to offer than an infamous reputation of drugs and poverty. It's the city where the "Hon" was created, Berger Cookies were born, and manufacturing jobs provided thousands of residents with work. There is no quality typical of a Baltimorean other than the fact that most city residents have a created strong sense of place in Baltimore and Baltimore's neighborhoods. The climate of Baltimore, however, is rapidly developing with the increase in modernization, globalization, and, in general, local transformation. Many Baltimoreans are facing drastic changes in their communities and occupations. Previously significant jobs to the Baltimore economy, such as steel production, are quickly becoming obsolete and Baltimore identities are beginning to change. This research will begin the process of documenting the memories of those living in Baltimore so that aspects of Baltimore's history may be preserved. I will explore Baltimore identity through approximately 20 in-depth oral history interviews with Baltimore residents and capture visual documentation of their lives in the form of photography. I will include Baltimoreans from vastly different geographic, occupational, ethnic, and economic backgrounds. Through these diverse narratives I hope to increase understanding of the complex interactions between place and identity in the modern urban context. I believe that researching the many facets of Baltimore's identity (both positive and negative) through the stories of real people will fill a void in the public's perception of this city.
How did you find your mentor for year research project?
I met Professor Sarah Chard after taking her Anthropological Research Methods course last semester. I loved her passion and commitment to the field and thought she'd make an excellent mentor. To top it off, she teaches the Urban Anthropology course at UMBC– it was as if we were meant to work together!
How did you know this was the project you wanted to do?
I've always been a Baltimorean and a storyteller. I haven't, however, always known how I can combine my passion for my hometown with my love of stories in an academic setting. Classes at UMBC, such as Oral History, Documenting Cultural Heritage, Qualitative Research Methods, among others, showed me that it was possible to research things that I love. In my class Documenting Cultural Heritage, I interviewed Sparrows Point Steel Mill workers. This project inspired me to learn more about Baltimore and its people.
Is this your first independent research project?
While I have conducted fairly extensive ethnographic research in other classes – I've studied Violent Death Memorialization (R.I.P. Graffiti) in Baltimore City and conducted Oral Histories with Baltimore City youth – this is going to be my first official independent research project.
Do you get course credit for this work?
In a way, yes! The research that I'm doing over the course of the next year will inform both my Anthropology Undergraduate Honors Thesis and my Interdisciplinary Studies Capstone Project.
How much time do you put into it?
A lot. I will be conducting 20 to 30 interviews over the next year. Each interviewee needs to be selected, questions must be drafted, and each interview lasts approximately two hours. After that is the transcription process which can take up to triple the amount of time of the actual interview. A single interview and its processing takes about seven hours. That's just for the oral/written component! As a Visual Researcher, I incorporate photography into my work, as well. As time-consuming as it may be, the work is incredibly rewarding. I've met people from all walks of life with all various occupations and life experiences.
How did you hear about the Undergraduate Research Award (URA) program?
I heard about the URA program through the Humanities Scholar program. The advisers and mentors in the program are incredibly supportive and encouraging of students to get involved in research at UMBC.
What academic background did you have before you applied for the URA?
I was in my third year at UMBC and had taken coursework for both of my majors and my minor. I was also very involved in the UMBC Honors College and Humanities Scholars Programs. Additionally, I interned at the National Geographic Society, the Smithsonian Institution's Center for Folklife and Cultural Heritage, and the Maryland State Arts Council.
Was the application difficult to do?
The application was straightforward and very useful to help me solidify my ideas for my research. It's always helpful to take the time to organize your thoughts, put them on paper, and have a mentor look over them.
How much did your mentor help you with the application?
My mentor and I went through about three drafts, making corrections each time.
What has been the hardest part about your research?
The hardest part about my research has been being able to balance it with my schoolwork and extracurricular activities. If you're looking to do undergraduate research, learning how to manage your time effectively will prove to be an essential skill.
What was the most unexpected thing?
Initially, I anticipated that it would be difficult for me to find interviewees. Little did I know that it would be just the opposite! When I discussed my research with others, they would always have suggestions for more interviewees. My list of potential research subjects continue to grow with every new encounter.
How does your research relate to your work in other classes?
Anthropology is a strongly qualitative, interview-heavy field. With my research, I have the opportunity to immediately apply anthropological research theories, which I've learned in my classes, in the field.
What else are you involved in outside of research and schoolwork?
I'm a local titleholder in the Miss America Organization! As a titleholder I serve as a goodwill ambassador for the Children's Miracle Network Hospitals and a representative for the Miss Maryland Scholarship Organization. I frequently travel the state to perform my talent, speak at community events, and raise money for local charities.
7/30/2013