Visual Arts
"Light Inhibits Light"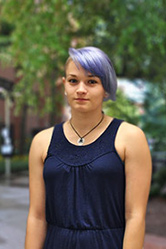 It's always there and always has been; yet, even as we learn more about it, what we can see with our own eyes is fading. As population grows and society expands, the night becomes an ever fading natural resource. Where the sky was once dark and filled with countless sparkling points of light, we now have an ever glowing orange sky where only the brightest stars and planets are visible. Light pollution is a real problem. Not only does it cause issues in the environment, it also is a waste of energy. All of the light that is going up into the atmosphere is light that was meant to be directed downwards. This summer, I plan to travel the Northeastern US and into Nova Scotia, documenting our dark skies through time lapse photography and measuring amounts of light pollution throughout to showcase the beauty and wonder of our night sky through video in hopes of awakening people to the problem of light pollution.
Who is your mentor for your research, scholarship, or artistic project?
My mentor is Mr. Steven Silberg.
How did you know this was the project you wanted to do?
From the first time I saw time-lapse videos on the internet of the sky, I knew that I wanted to do the same. When presented with the opportunity, I knew I wanted to draw attention to the issue of light pollution, especially on the east coast where it is so prevalent.
Is this your first independent research/scholarship/artistic project?
On this scale, yes, this is my first artistic project, but I have had self-directed projects within photography and time-lapse photography in the past.
How much time do you put into this project?
Over the summer, I spent 17 days straight in a car driving, camping, and photographing from Maryland to Nova Scotia and back. Prior to that, hours upon hours were spent organizing gear needed, planning the route and stops. Since then, many hours have been spent in post editing the images and video.
How did you hear about the Undergraduate Research Award (URA) program?
It was mentioned to me by grad students I knew at the time, and it had also been brought up a few times by professors in the department.
What academic background did you have before you applied for the URA?
I have been studying photography for the last four years, starting at CCBC and then transferring to UMBC in the fall of 2013.
Was the application difficult to do?
The application was not all that difficult, it was just time consuming and involved lots of planning.
How much did your mentor help you with the application?
Steve helped quite a bit in making sure that I was covering all of the bases. He also helped me understand the nature of applying for grants in general. He helped develop my ideas into full plans to be executed.
What has been the hardest part about your research?
Staying motivated and not doubting my work or myself.
What was the most unexpected thing?
The most unexpected thing was how busy campgrounds are. I had no idea people went camping that much.
How does your research relate to your work in other classes?
My work is photography and most of my work in classes is also photography.
What else are you involved in on campus?
I work in the photo cage in the Fine Arts building.
What is your advice to other students about getting involved in research?
Make sure it's really what you want and don't compromise your goals to get any grant or approval–it will make it that much more difficult down the line to keep going. Other than that, you have to really enjoy whatever it is that you are doing and want it. You have to be self-motivated.
Did you transfer to UMBC from another institution? Where?
I transferred from CCBC after completing my associate's and getting a good idea of what I really wanted to study.
2/10/2016