Major: Biological Science and Psychology
"Analyze Cell Fate Determination in Arabidopsis with Erwinia Amylovora Infection"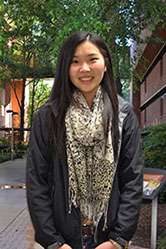 Erwinia amylovora is the pathogenic agent responsible for fire blight disease, the major disease affecting plant in Rosaceae family that causes billions of dollars of losses every year. Aradidopsis is a non-host to E. amylovora and shows resistance to the pathogen. Interestingly, previous studies from Dr. Lu's laboratory also showed that besides inducing cell death, wild type E. amylovora induces tumor-like growths on infected Arabidopsis leaves. The abnormal growths contain enlarged mesophyll cell with higher ploidy. These results suggest that E. amylovoa could usurp host cell cycle machinery to affect its cell ploidy and subsequently the fate of the cell. Therefore, the goal of my study is to investigate what factors from the pathogen cause the host cell fate change. To achieve my goal of this study, I will investigate what factors from E. amylovora cause cell fate to change in Arabidopsis by infecting the plant with different strains of E. amylovora followed by testing the infected plants for cell fate change. The E. amylovora dspE and E. amylovora hrpN strains are defective in different effectors. I will infect the fifth, sixth, and seventh leaves of Arabidopsis with these two strains, using a needless syringe to infiltrate the bacterial solutions into the leaves. I will use wild-type E. amylovora and a mock solution as the control in the infiltration.
How did you find your mentor for your research project?
My mentor for my research was my academic advisor and also my professor when I took plant biology.
How did you know this was the project you wanted to do?
I knew this was the project that I wanted to do after taking plant biology. After taking that class I really wanted to do more research regarding plants.
Is this your first independent research project?
Yes, this is my first independent research
Do you get course credit for this work?
Yes, I get 2 credits per semester
How much time do you put into it?
I don't know the exact time that I put into the research but during the semester there would be weeks that I stay in lab more than 10 hours.
How did you hear about the Undergraduate Research Award (URA) program?
I heard about the URA program through Hua Lu, my mentor.
What academic background did you have before you applied for the URA?
When I applied for the URA I was done with my core biology classes and I was just picking and choosing to take the classes that really interested me such as plant biology and anatomy.
Was the application difficult to do?
It wasn't difficult to complete the application but it was a bit of a challenge because I didn't know exactly how to put the experiment in words in the beginning so there was a lot of editing that needed to be done.
How much did your mentor help you with the application?
My mentor helped me a lot with the application. I also have a graduate student mentor who helps me with my project and she revised it for me 3 times before Dr. Lu got to see it and then she revised it 2 more time before I turned in my application.
What has been the hardest part about your research?
Hardest thing about my research was my lack of experience. Also, there is a lot of tedious work that goes into research and it can be time consuming.
What was the most unexpected thing?
You can never expect to get the exact result that you are looking for. There are going to be times that the result you get isn't what you expected it to be and sometimes you won't know how that result came about.
How does your research relate to your work in other classes?
My research relates to my work in other classes especially because I am done with the courses that relate to my research such as cellular biology and plant biology.
What else are you involved in on campus?
I am more involved outside campus than on campus. Outside campus I work with elementary school students and teach them about science. Also I volunteer at the oncology department and am very active in the church that I attend.
What is your advice to other students about getting involved in research?
Don't be afraid to ask around! There are a lot of research opportunities especially on our campus so ask your professor about a research position or email professors that you feel best fit your interests. Also don't be discouraged just because some professors say no, there is definitely a research position for those who look for them.
What are your career goals?
My career goal is to become a pediatrician.
8/1/2014