Major: Visual Arts
"Infrascapes: A Study of the Invisible"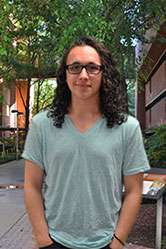 It has been said that the wilderness is the ultimate equalizer: it mitigates rank, caste, and inheritance. In today's society, do we still see landscapes in the same light that we did centuries, or even decades ago? This project will present the landscape in a way that will not only make us question everything we know about landscape from the past, but also how we will think about it moving forward. I will travel throughout the country to photograph landscapes in a way that not has done before. I will use a modified, infrared-only camera to capture landscapes that, if photographed using the visible light spectrum, most viewers would readily identify. Photographing the landscapes in the infrared (invisible) light spectrum will force viewers to confront and question their familiarity with the subject. By offering a new way of seeing the landscape, this project is meant to conjure a sense of awe once reserved for the wild, while simultaneously reminding us of the ubiquitous control that ensures the absence of such territory.
How did you find your mentor for your artistic project?
I have previously taken a few photography classes with Professor Thompson through which she has been able to get a good read on the type of person I am, my ambitions, as well as my photography style. She explained the URA program to me, and I began work immediately!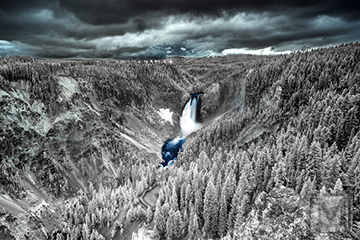 How did you know this was the project you wanted to do?
I have had this project planned as a reach-for-the-stars goal of mine for quite some time now. I knew that a project of this caliber was the perfect platform to propel the techniques I wanted to learn more about and allow the results to reach the proper audience.
Is this your first independent artistic project?
Yes, and hopefully not my last!
Do you get course credit for this work?
I received 3 credits for course ART495 – Independent Study.
How much time do you put into it?
Planning this project was an arduous process. It required countless hours of research before planning even began. Altogether, the pre-production process took the span of about 6 months full of research and planning.
How did you hear about the Undergraduate Research Award (URA) program?
Professor Thompson recommended I look into the program. She and I agreed that it seemed to be the perfect fit for the goals that I have.
What academic background did you have before you applied for the URA?
I applied for the URA the Spring of my Junior year.
Was the application difficult to do?
The application process was very thorough, but not difficult.
What has been the hardest part about your research?
The most difficult part about my particular research project was certainly the pre-production. My project involved a lot of travel and staying nights in many different states. This brought about quite a few uncontrollable variables such as the changing weather, time zone shifts, and countless other unexpected events that come along with a pan-America project like this one.
What was the most unexpected thing?
The most unexpected result of my research thus far has been the viewer turnout! My research is in a field very different from what has been extensively studied in the past. As with any artistic work, one can never be certain how the project will be received. The results are not yet revealed at the time of this writing, and the project already has a triple-digit following on Facebook, spanning 6 different countries! Drop me a line on twitter. #ProjectInfrascape.
How does your research relate to your work in other classes?
As a photography major, the entire course lineup is designed to build a breadth of work for your portfolio. My research does exactly that by allowing me access to regions of the world previously inaccessible with conditions that are literally impossible to observe on this half of the country. Not to mention in a medium that not many photographers in the world have mastered professionally. Moving forward, the work produced for all of my classes will be impacted by the techniques I have learned and experiences I have gained through my research.
What is your advice to other students about getting involved in research?
I would advise other students to spend as much time as possible during the planning stages of your research. To know what you need to make the project happen, where you are going to get these resources, and how to cover all expenses and extraneous opportunity costs associated with completing a project on this scale. Having all of this work done in the beginning will allow you to spend the time completing the project worry-free, knowing that all your bases are covered.
10/9/2018