An example of research created by our Biochemistry and Molecular Biology Cohort:
"Assessing Phylogenetic Relationships and Testing Speciation Mechanisms in Darter Fish in the United States"
Samantha Eng
Associate Professor Tamra Mendelson
This study will use molecular methods to determine the relationships and mechanisms of speciation of Etheostoma stigmaeum, E. jessiae, E. meadiae, E. obama, E. gore, E. teddyroosevelt, E. jimmycarter, E. clinton and E. akatulo. This group of species (subgenus Doration) seems to be an excellent example of speciation by sexual selection because species differ mostly in male breeding color, which is a sexual ornament. There is a suggested phylogenetic hypothesis of this subgenus based on morphology and breeding colors. However, molecular techniques have not been used. A phylogeny based on molecular (DNA) data is critical in modern biology. The methods used will be amplified fragment length polymorphism (AFLP), since it has been shown to support relationships among darters, and mitochondrial gene sequencing. This study will also use behavioral observational techniques during the mating season to test hypotheses about speciation mechanisms that involve the mating preferences of males and females of different species.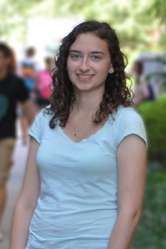 Meet a current research student:
Meet a research alumnae:
Benefits for Biochemistry and Molecular Biology students:
So, what are you doing next summer?
Learn how to find research internships and job opportunities using Handshake!

For more information, check out this department's website:
Biological Sciences
4/18/2023