Interesting creative projects by our Theatre students:
"Bmore Than Dance: A Study in Organization Management"
Erin Patterson and Brendon Thach
Associate Professor Alan Kreizenbeck
Errigh LaBoo has contributed to the underground dance movement "Shake it Off" by managing troupes and individual dancers to compete against each other in the competition he created, "The King of Baltimore." The dance form is extremely entertaining, drawing on many elements of hip-hop, vogue, krump, and tap (to name a few) while adding the element of bracket competitions. It is also expressive, and serves as an emotional outlet for many dancers. This dance form has influenced the community that surrounds it, inspiring thousands of other dancers, who have created their own forms and styles of dance. We have heard many times how beneficial this dance competition is for the city of Baltimore. Through surveys and personal interviews, we have been told that the dance "keeps [them] out of trouble and off the streets." We have met many talented individuals who have a passion for artistic expression with no outlet to really explore it fully. We seek to create a larger organization out of LaBoo's competition series, which uses dance and art as a means to expand awareness and positivity to the community, for we believe this dance is highly beneficial in a community where the arts are not emphasized as an alternative outlet to destructive behavior. One of the main focuses of the program is to prove to the dancers that their talent is worth something and not to go give up. We have developed a team comprised of students and mentors to help with website development, public relations, communication, and marketing. These students are interested and involved in many different areas, including photography, anthropology, theater, graphic design, and computer science. Our mentors are experienced businesspeople who help us to efficiently manage and keep our team on track. Our team is responsible for promotion of the events, audience expansion, website upkeep, outreach to the community, finding sponsorships from other businesses, donations to charity through fundraising performances, and recruitment of students to join the dancers in their company. The organization will be giving back to the community that nourished it, including outreach to inner city public schools, lessons, seminars, workshops, and charitable donations.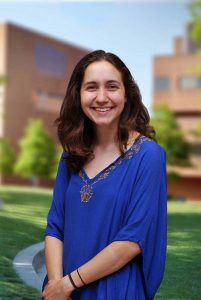 Meet our research alumnae:
Benefits for Theatre students:
Work with a faculty member
Experience hands-on research
Reinforce classroom learning
Prepare for work or graduate school
Travel to national conferences or festivals
Receive grant funding
Publish independent research

Intercepting Ideology: Directing Feminist Theatre.
Garrett Wright. UMBC Review Vol.2.
LCD Gobo: Innovations in Theatre Lighting.
Paul A. Kelm. UMBC Review Vol.5.
So, what are you doing next summer?
Learn how to find research internships and job opportunities using Handshake!

For more information, check out this department's website:
4/18/2023